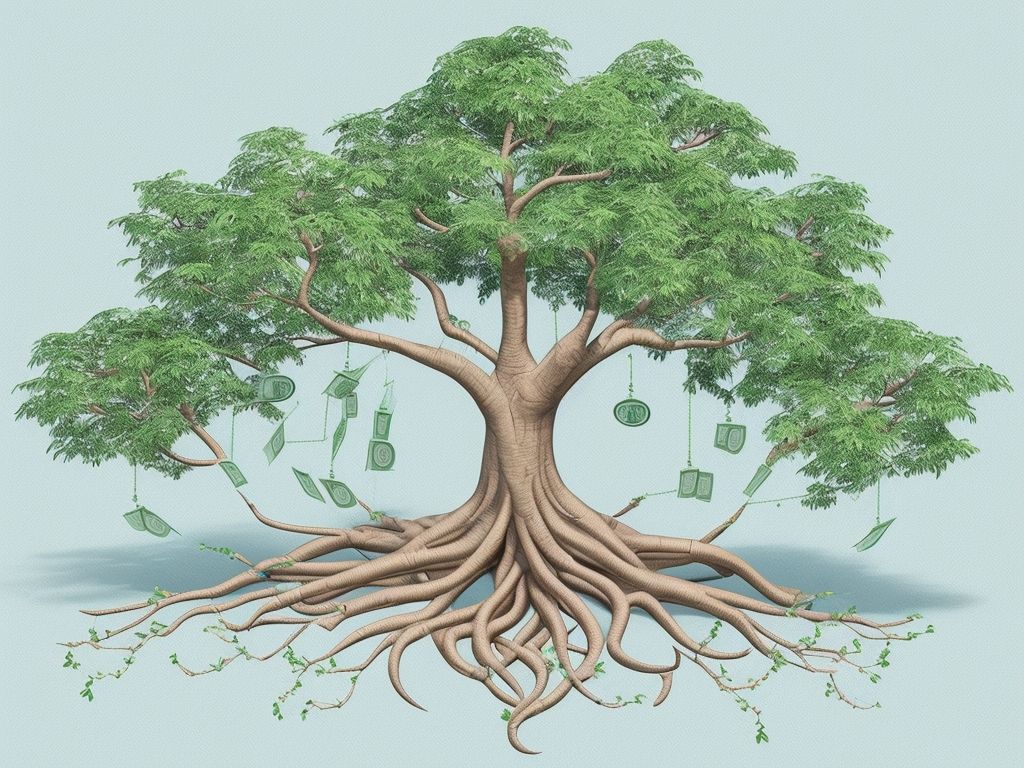 Backlinks are an essential aspect of search engine optimization (SEO) and can play a significant role in generating revenue. In this article, we will explore the process of making money by creating and utilizing backlinks effectively. We will delve into the definition of backlinks, the different types of backlinks, and their importance in SEO.
To begin, let's understand that backlinks are incoming hyperlinks from one website to another. They are essentially a vote of confidence and credibility from one site to another, signaling to search engines that the linked website is trustworthy and authoritative.
There are various types of backlinks, including natural links, manual links, and self-created links. Different types carry varying degrees of value and impact on SEO. Understanding these distinctions will enable you to strategize your approach more effectively.
Backlinks hold immense importance in SEO. They are a crucial ranking factor, influencing a website's visibility and organic search rankings. Search engines interpret backlinks as a vote of confidence and relevance. The more high-quality and authoritative backlinks your website has, the more likely it is to rank higher in search results.
Creating high-quality backlinks requires a strategic approach. In this article, we will discuss several methods to create backlinks, including guest blogging, resource link building, broken link building, and social media sharing. Each technique offers a unique opportunity to establish valuable connections and boost your website's visibility.
But how can backlinks be monetized? We will explore various methods, including selling backlinks, affiliate marketing, sponsored content, and building niche websites. These strategies allow you to leverage your backlinks to generate income and create additional revenue streams.
Pricing backlinks can be a complex task, as it depends on various factors such as website authority, niche relevance, traffic volume, and link placement. We will provide insights and guidance on how to determine the appropriate pricing for your backlinks.
Lastly, we will discuss potential challenges and risks involved in the process of monetizing backlinks. Understanding these risks and finding ways to mitigate them will help you navigate the journey more effectively and ensure long-term success.
By the end of this article, you will have a comprehensive understanding of how to make money through backlinks and be equipped with the knowledge to implement effective strategies in your SEO endeavors.
What Are Backlinks?
Curious about the world of backlinks and how they can help you make money? Well, let's start by understanding what backlinks really are. In this section, we'll be diving into the ins and outs of backlinks, exploring the various types that exist. Get ready to uncover the secrets behind these powerful virtual connections and how they play a crucial role in driving traffic and boosting your online presence. So, buckle up and get ready to harness the true potential of backlinks!
Types of Backlinks
There are several types of backlinks, including natural, manual, self-created, and toxic backlinks, that are important for SEO purposes. To provide a clear understanding of these types, refer to the following table:
| Type of Backlink | Description |
| --- | --- |
| Natural backlinks | These are links that are voluntarily placed by other website owners or bloggers without any solicitation. They are the most valuable type of backlinks as they indicate that your content is considered authoritative and valuable by others. |
| Manual backlinks | These are links that are actively obtained through outreach efforts, such as guest blogging or requesting links from other website owners. They require direct action from you to acquire. |
| Self-created backlinks | These are links that are created by you without any external influence. They can include forum signatures, blog comments, or directory submissions. These types of backlinks are generally considered lower quality and less valuable. |
| Toxic backlinks | These are links that come from spammy or low-quality websites. They can harm your website's search engine rankings and should be avoided. It is important to regularly monitor your backlink profile and disavow toxic backlinks. |
It is crucial to focus on building natural and manual backlinks as they have the most positive impact on your SEO efforts. By building a diverse and high-quality backlink profile, you can improve your website's authority and visibility in search engine results.
Having an understanding of the different types of backlinks is essential for effective SEO strategies. By prioritizing the acquisition of natural and manual backlinks while avoiding toxic backlinks, you can enhance your website's online presence and improve your search engine rankings.
The Importance of Backlinks in SEO
Backlinks play a significant role in SEO as they enhance search engine rankings and boost website visibility.
| | |
| --- | --- |
| 1. Google Algorithm: | Backlinks are considered a crucial ranking factor within Google's algorithm, as they showcase a website's credibility and relevance. By doing so, they help search engines comprehend the value the website offers to users. |
| 2. Authority and Trust: | High-quality backlinks stemming from reputable and authoritative websites indicate to search engines that your website is trustworthy and reliable. Consequently, this can lead to higher rankings and increased organic traffic. |
| 3. Referral Traffic: | Backlinks also drive referral traffic to your website. Whenever other websites link to your content, their visitors can click on the link and be directed to your site. This can result in attracting new potential customers and providing greater brand exposure. |
| 4. Indexing and Crawling: | Backlinks serve as pathways for search engine bots to discover and index your web pages. The more quality backlinks your website possesses, the more frequently search engines will crawl and index your content, ensuring its visibility in search results. |
| 5. Niche Relevance: | Backlinks originating from websites within your niche or industry hold particular value. They inform search engines that your website is an authoritative source in that specific field, further enhancing your website's relevance for relevant search queries. |
| 6. Diverse Backlink Profile: | It is essential to cultivate a diverse backlink profile that consists of links from various types of websites, including blogs, news sites, social media platforms, and directories. This diversification reduces the risk of search engines penalizing your website for engaging in unnatural or spammy backlink practices. |
By comprehending the significance of backlinks in SEO, website owners and digital marketers can develop effective strategies for acquiring high-quality backlinks and enhancing their search engine rankings.
How to Create High-Quality Backlinks?
Looking to boost your website's credibility and ranking? Dive into the art of creating high-quality backlinks! In this section, we'll explore four powerful techniques: guest blogging, resource link building, broken link building, and social media sharing. Get ready to unlock the secrets behind these strategies, which can skyrocket your online presence and drive targeted traffic to your site. No more guessing games – it's time to take your backlink game to the next level!
1. Guest Blogging
Guest blogging is a highly effective strategy for building high-quality backlinks and enhancing the visibility of your website. When engaging in guest blogging, here are some important points to consider:
Identify relevant and authoritative websites in your niche that accept guest posts. Look for websites that have a strong online presence and a significant number of active readership.
Conduct thorough research and understand the content guidelines and audience preferences of the target website. Customize your guest post to align with their requirements and deliver valuable content to their readers.
Focus on creating unique and captivating content that provides insights, practical tips, or solves specific problems for the audience. This approach will not only boost your credibility but also encourage readers to visit your website through the provided backlink.
Ensure to include a well-written author bio with a link back to your own website. This not only helps to establish your expertise but also drives traffic to your site.
Promote your guest post through your own social media channels and email list to maximize its reach and visibility.
Pro-tip: Developing strong relationships with website owners and editors plays a vital role in successful guest blogging. Maintain a professional and friendly approach, and provide value by promoting their website or offering valuable insights beyond your guest post. This can lead to more opportunities for guest blogging and collaboration in the future.
2. Resource Link Building
Resource link building is a powerful technique for improving your website's search engine optimization (SEO) and increasing its visibility. Here are some important aspects to consider when implementing resource link building:
Identify authoritative websites: Look for websites that are relevant to your niche or industry and have a strong online presence. These websites should have a high domain authority and a good reputation.
Create valuable and informative content: Develop high-quality content that provides valuable information to your target audience. This can include articles, guides, tutorials, or infographics. The content should be well-researched, comprehensive, and unique.
Reach out to relevant websites: Contact the owners or administrators of the authoritative websites you identified. Offer them your valuable content as a resource that can complement their existing content. Explain why your content is relevant and valuable to their audience.
Include backlinks in your content: When the website owners agree to include your content as a resource, make sure to include relevant backlinks to your website within the content. These backlinks will direct readers to your website, increasing its visibility and driving traffic.
Promote your content: After your content is published on the authoritative websites, share it across your social media channels and other platforms. This will help drive more traffic to your website and increase the chances of other websites linking to your content.
Monitor and analyze results: Keep track of the backlinks you've built and see how they impact your website's SEO over time. Monitor the traffic and engagement coming from these backlinks and make adjustments to your strategy if needed.
By implementing resource link building strategies, you can enhance your website's SEO, increase its visibility, and drive more targeted traffic.
3. Broken Link Building
Implementing broken link building is a highly effective strategy to enhance your website's SEO and boost organic traffic. Follow these steps to successfully implement broken link building:
Utilize tools such as Ahrefs or SEMrush to identify relevant websites within your niche that possess broken links.
Contact the website owners or webmasters and inform them about the broken links on their site. Additionally, offer them a suitable alternative resource from your own website to replace the broken link.
If the website owner agrees to replace the broken link with your resource, furnish them with the URL and anchor text of the desired link.
Continuously monitor the websites to ensure that they have successfully replaced the broken link with your resource. Tools like Ahrefs or Google Search Console can aid in tracking these changes.
Persistently repeat this process and consistently identify new opportunities for broken link building.
By implementing broken link building, you can significantly enhance your website's SEO by acquiring top-quality backlinks. This strategy not only increases organic traffic, but it also enhances your website's authority and credibility in search engine rankings.
Keep in mind that patience and persistence are key requirements for successful broken link building. It may take time to discover relevant websites with broken links and convince website owners to replace them. However, the effort is worthwhile, as it can provide long-term benefits to your website's SEO.
Fun Fact: According to a study conducted by Moz, websites with a larger number of backlinks generally rank higher in search engine results pages (SERPs).
4. Social Media Sharing
When it comes to creating high-quality backlinks, the strategy of social media sharing can undoubtedly play a crucial role. Here is a comprehensive list of strategies that you can employ to ensure effective social media sharing:
Craft engaging and shareable content: The key is to create content that holds value, provides information, and is relevant to your target audience. This can include various formats such as blog posts, articles, infographics, videos, and images. It is imperative to make sure that your content is visually appealing and easy for users to share on various social media platforms.
Establish a presence on social media platforms: To maximize your social media sharing potential, establish a strong presence on popular platforms such as Facebook, Twitter, Instagram, and LinkedIn. Make it a point to share your content regularly and actively engage with your audience to build a loyal following.
Encourage social sharing: To facilitate easy sharing of your content, it is crucial to incorporate social sharing buttons on your website or blog. These buttons will make it convenient for visitors to share your content with their followers. Additionally, interactive options for social media sharing, such as clickable shareable quotes or images, can further enhance engagement.
Engage with influencers: It is vital to identify influencers within your industry who possess a substantial following on social media. Engaging with influencers can be done by leaving comments on their posts, sharing their content, or even collaborating on joint projects. These efforts can significantly increase the visibility of your content and attract more backlinks.
Active participation in relevant communities: Joining relevant social media groups, forums, and communities where your target audience exists is vital. Actively share your content within these communities and engage with others by answering questions, providing valuable insights, and sharing relevant resources.
Utilize hashtags: Increase the reach and visibility of your social media posts by incorporating relevant hashtags. Thorough research of popular hashtags that align with your industry or target audience is essential for more effective social media sharing results.
Always remember that social media sharing should be strategic and focused on building relationships, establishing credibility, and driving traffic to your website or blog. By implementing these social media sharing strategies diligently, you can improve your chances of earning high-quality backlinks and boost your overall SEO efforts.
Monetizing Backlinks
Monetizing backlinks opens up exciting opportunities to generate income online. In this section, we'll delve into different avenues for leveraging backlinks to make money. We'll explore selling backlinks, the potential of affiliate marketing, the profitable world of sponsored content, and the potential of building niche websites. Get ready to discover the strategies and tactics you can employ to turn backlinks into a lucrative revenue stream.
1. Selling Backlinks
When it comes to making money with backlinks, one of the strategies you can consider is selling backlinks. Here are some important points to know about selling backlinks:
Identify high-authority websites: Look for websites that have a strong online presence and a high domain authority. These websites are more likely to attract potential buyers for selling backlinks.
Create valuable content: Your content should be informative, engaging, and relevant to the targeted audience. This will not only attract visitors but also increase the demand for selling backlinks on your website.
Build relationships with industry influencers: Network with influencers and experts in your niche. Collaborating with them can lead to opportunities for selling backlinks on their platforms.
Set prices based on quality: Determine the value of your backlinks by considering the quality of your website, domain authority, traffic, and relevancy to the buyer's niche. Higher-quality backlinks can be priced at a premium.
Be transparent about selling backlinks: It's important to disclose that you are selling backlinks and comply with search engine guidelines. Transparency builds trust with buyers and ensures long-term success.
Selling backlinks became a popular practice with the rise of search engine optimization (SEO). Website owners realized the value of backlinks in improving search engine rankings and driving organic traffic. As the demand for high-quality backlinks grew, the market for buying and selling backlinks emerged. Today, selling backlinks is a legitimate strategy for website owners to monetize their online presence and for businesses to enhance their SEO efforts.
2. Affiliate Marketing
Affiliate marketing is a popular way to monetize backlinks and earn money online. By promoting products or services on your website through affiliate links, you can earn a commission for every sale or action generated through those links. Here are some key points to consider when it comes to Affiliate Marketing:
Choose the right affiliate programs: Research and select reputable affiliate programs that align with your website's niche and audience. Look for programs that offer competitive commission rates and provide high-quality products or services.
Create valuable content: To effectively promote affiliate products, you need to create high-quality and engaging content that includes your affiliate links. Write informative product reviews, tutorials, or comparison articles that provide value to your audience and encourage them to click on your affiliate links.
Disclose your affiliate partnerships: It's important to be transparent with your audience about your affiliate relationships. Clearly disclose that you may earn a commission from the products or services you recommend. This builds trust with your audience and ensures compliance with advertising regulations.
Track and optimize your affiliate links: Use tracking tools and analytics to monitor the performance of your affiliate links. Identify which links are driving the most conversions and optimize your content to maximize your earnings. Experiment with different placement strategies and call-to-actions to improve conversion rates.
Incorporating Affiliate Marketing into your monetization strategy can be a lucrative way to earn passive income. It's crucial to select the right affiliate programs, create valuable content, disclose your partnerships, and track your links' performance to optimize your earnings.
3. Sponsored Content
When it comes to monetizing backlinks, one popular option is through sponsored content. Sponsored content, also known as "sponsored posts" or "branded content," involves collaborating with brands or businesses to create content that promotes their products or services in exchange for compensation. Here are some key points to consider about sponsored content:
Authenticity: It's important to ensure that the sponsored content aligns with your brand and values. Select products or services that you genuinely believe in and that resonate with your audience. This will help maintain the authenticity and trust of your audience.
Disclosure: Transparency is crucial when it comes to sponsored content. It is essential to clearly disclose to your audience that the content is sponsored. This can be done through disclaimers, tags, or hashtags such as #sponsored or #ad.
Relevance: Choose sponsored opportunities that are relevant to your niche or target audience. By doing so, you can provide valuable information or recommendations that your audience will find beneficial.
Creativity: Be innovative in your approach to sponsored content. Think outside the box and explore different formats such as videos, blog posts, or social media collaborations to make the content engaging and enjoyable for your audience.
Mutually beneficial partnerships: Seek long-term collaborations with brands that share your values. Developing a strong relationship with brands can lead to more opportunities and better compensation over time.
Remember, sponsored content should provide value to both you and your audience. By selecting relevant and authentic partnerships, you can create compelling content while also generating income through sponsored collaborations.
4. Building Niche Websites
Building Niche Websites: Building niche websites can be a lucrative way to monetize backlinks and generate revenue through various monetization methods such as affiliate marketing, sponsored content, and advertising.
Identify a niche: Choose a specific topic or industry that you are passionate about and have expertise in when building niche websites. This will help you create high-quality content and attract a targeted audience.
Keyword research: Conduct thorough keyword research to identify the most relevant and high-value keywords related to your niche when building niche websites. Use these keywords strategically in your website content to improve search engine rankings.
Create valuable content: When building niche websites, it is essential to develop informative and engaging content that provides value to your audience. This could include articles, blog posts, videos, or podcasts. Aim to establish yourself as an authority in your niche.
Optimize for SEO: Implement on-page optimization techniques to improve your website's visibility in search engine results while building niche websites. This includes optimizing meta tags, headings, and URL structure, as well as ensuring your website is mobile-friendly and has fast loading times.
Build backlinks: When building niche websites, it is crucial to establish high-quality backlinks pointing to your website. This can be done through outreach to relevant websites, guest posting, or participating in industry forums and communities. Backlinks from reputable and authoritative websites can significantly improve your website's authority and search engine rankings.
By following these strategies, you can build a successful niche website that attracts organic traffic and generates revenue through various monetization methods such as affiliate marketing, sponsored content, and advertising. Remember to continuously update and optimize your website to stay relevant in your niche and maintain a competitive edge.
How to Price Backlinks?
How to Price Backlinks? When it comes to pricing backlinks, it's important to consider various factors to ensure fair and reasonable pricing. Here are the steps to follow:
Evaluate the authority of the website that will provide the backlink. Look at factors such as domain authority, page rank, and traffic metrics. This will help determine the value and potential impact of the backlink.
Consider the relevance of the website to your niche or industry. Backlinks from websites related to your field are more valuable and can boost your search engine rankings.
Assess the placement of the backlink within the website. Backlinks in prominent positions, such as within the main content or header, are more valuable than those in the footer or sidebar.
Determine the demand for backlinks on the specific website. If the website has high demand from other businesses, the pricing may be higher. Conversely, if the website has low demand, the pricing may be more competitive.
Analyze the website's organic search traffic. Higher traffic volumes indicate greater exposure and potential referral traffic, making the backlink more valuable.
Consider the duration of the backlink. Some websites offer backlinks for a specific period, such as a month or year. Decide if you need a temporary or permanent backlink and adjust the pricing accordingly.
Take into account any additional services offered with the backlink. Some websites may provide content creation or promotion alongside the backlink, which can enhance the overall value.
Compare the pricing with similar websites offering backlinks in your industry. This will give you a benchmark to ensure you're getting a fair deal.
By following these steps, you can accurately determine the price of backlinks and make informed decisions for your business.
Potential Challenges and Risks
When engaging in the practice of building backlinks to make money, it is important to be aware of the potential challenges and risks involved. Here are some factors to consider:
Algorithm Changes: Search engine algorithms are constantly evolving, and what may work today in terms of backlink strategies may not work tomorrow. Adapting to algorithm changes and staying updated with SEO best practices is crucial to maintain the effectiveness of your backlinks.
Penalties and Loss of Rankings: If you employ unethical or spammy backlink tactics, search engines like Google may penalize your website, resulting in a drop in rankings or even being completely removed from search results. It is essential to follow white-hat SEO techniques and focus on building high-quality, relevant backlinks.
Low-Quality Backlinks: Obtaining backlinks from low-quality or irrelevant websites can negatively impact your website's reputation and authority. Building a strong network with authoritative and reputable websites is vital for the success of your backlink strategy.
Competition: The field of backlink building is highly competitive, meaning that other websites are also striving to acquire quality backlinks. It requires ongoing effort and creativity to stay ahead of the competition and maintain a strong link profile.
Time and Effort: Building backlinks can be a time-consuming process. It requires research, outreach, and relationship-building with other website owners. Maintaining and updating your backlink portfolio is an ongoing task that demands dedication and effort.
To mitigate these challenges and reduce the risks associated with backlink building, consider the following suggestions:
Frequently monitor and adapt to algorithm changes to ensure your backlink strategies remain effective.
Focus on building high-quality and relevant backlinks from authoritative websites in your industry.
Avoid engaging in black-hat SEO practices and prioritize ethical link building tactics.
Stay updated with the latest SEO trends and best practices to maintain a competitive edge.
Invest time and effort into building relationships with other website owners to increase the likelihood of obtaining quality backlinks.
Frequently Asked Questions
How can I make money by doing backlinks?
To make money through backlinks, it is important to focus on the quality of the links rather than the quantity. High-quality backlinks from reputable and relevant sites have a greater impact on site rankings and traffic. You can achieve this by purchasing and selling quality links or by selling links to other sites.
What are dofollow links and why are they important for SEO?
Dofollow links are links that pass along "link juice" or authority from one website to another. These links are important for SEO because search engines like Google consider them as a vote of confidence from other reputable sites. Dofollow links can help improve a website's search rankings and increase its visibility in search results.
How do resource pages help in building quality backlinks?
Resource pages are curated lists of links on various topics. By getting your website included on resource pages, you can obtain valuable backlinks. To get your website listed on these pages, you can fill out a form or contact the site owners. Analyzing which pages already link to your competitors using tools like Semrush Backlink Analytics can help you find more resource page opportunities.
What is broken link building and how does it improve user experience?
Broken link building is the process of finding broken links on other websites and reaching out to the webmasters with your own resources to replace them. This process helps improve user experience by ensuring that website visitors are not redirected to non-existent pages or 404 errors. By offering relevant and valuable replacement resources, you can build quality backlinks and enhance user experience simultaneously.
How do high domain credibility and social media activity impact site rankings?
Websites with high domain credibility and active engagement on social media platforms are considered more trustworthy by search engines. Backlinks from these reputable sites can positively influence a website's site rankings, as search engines value the credibility and popularity of the referring domain. This can result in higher visibility in search results and increased site traffic.
Why should I focus on in-depth guides and data-driven studies as linkable assets?
In-depth guides and data-driven studies are considered linkable assets because they provide valuable and comprehensive information to users. Creating such resources that are in-depth, compelling, and accurate can naturally attract backlinks from other websites. When other sites link to your in-depth guides or data-driven studies, it signals to search engines like Google that your content is valuable and authoritative, contributing to higher search results rankings and increased site traffic.
{
"@context": "https://schema.org",
"@type": "FAQPage",
"mainEntity": [
{
"@type": "Question",
"name": "How can I make money by doing backlinks?",
"acceptedAnswer": {
"@type": "Answer",
"text": "To make money through backlinks, it is important to focus on the quality of the links rather than the quantity. High-quality backlinks from reputable and relevant sites have a greater impact on site rankings and traffic. You can achieve this by purchasing and selling quality links or by selling links to other sites."
}
},
{
"@type": "Question",
"name": "What are dofollow links and why are they important for SEO?",
"acceptedAnswer": {
"@type": "Answer",
"text": "Dofollow links are links that pass along 'link juice' or authority from one website to another. These links are important for SEO because search engines like Google consider them as a vote of confidence from other reputable sites. Dofollow links can help improve a website's search rankings and increase its visibility in search results."
}
},
{
"@type": "Question",
"name": "How do resource pages help in building quality backlinks?",
"acceptedAnswer": {
"@type": "Answer",
"text": "Resource pages are curated lists of links on various topics. By getting your website included on resource pages, you can obtain valuable backlinks. To get your website listed on these pages, you can fill out a form or contact the site owners. Analyzing which pages already link to your competitors using tools like Semrush Backlink Analytics can help you find more resource page opportunities."
}
},
{
"@type": "Question",
"name": "What is broken link building and how does it improve user experience?",
"acceptedAnswer": {
"@type": "Answer",
"text": "Broken link building is the process of finding broken links on other websites and reaching out to the webmasters with your own resources to replace them. This process helps improve user experience by ensuring that website visitors are not redirected to non-existent pages or 404 errors. By offering relevant and valuable replacement resources, you can build quality backlinks and enhance user experience simultaneously."
}
},
{
"@type": "Question",
"name": "How do high domain credibility and social media activity impact site rankings?",
"acceptedAnswer": {
"@type": "Answer",
"text": "Websites with high domain credibility and active engagement on social media platforms are considered more trustworthy by search engines. Backlinks from these reputable sites can positively influence a website's site rankings, as search engines value the credibility and popularity of the referring domain. This can result in higher visibility in search results and increased site traffic."
}
},
{
"@type": "Question",
"name": "Why should I focus on in-depth guides and data-driven studies as linkable assets?",
"acceptedAnswer": {
"@type": "Answer",
"text": "In-depth guides and data-driven studies are considered linkable assets because they provide valuable and comprehensive information to users. Creating such resources that are in-depth, compelling, and accurate can naturally attract backlinks from other websites. When other sites link to your in-depth guides or data-driven studies, it signals to search engines like Google that your content is valuable and authoritative, contributing to higher search results rankings and increased site traffic."
}
}
]
}