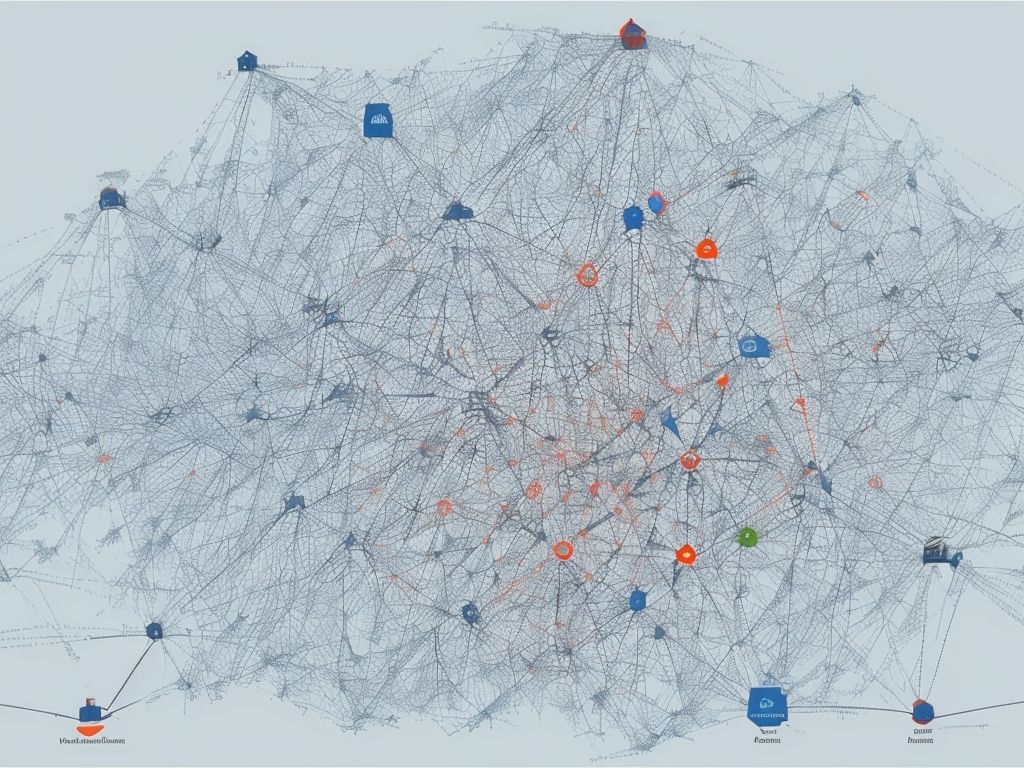 Finding backlinks can be made easy with a scraper. This tool helps us gather info on websites linking to ours. By studying these backlinks, we can get an idea of our website's performance and strengthen our online presence.
Backlinks are essential for SEO. They're like virtual approval votes for our website that show search engines our content is relevant and reliable. But, manually locating and examining backlinks takes a lot of time. That's where a scraper comes in.
A scraper is a tool that scans websites and collects data from them. In this case, it looks for external links pointing to our website. We can then assess which websites link to us and how useful those links are.
Before scrapers, SEO professionals had to go through HTML codes of webpages or use third-party services for backlink data. This was both hard work and inaccurate. Scrapers changed this – they automate the process, save time, and give us exact data on our website's link profile.
Scrapers let us make informed decisions about our SEO strategies and build quality relationships with other websites.
What is a scraper and why is it used?
Scrapers are special tools used to snatch info from websites. It helps users to grab data, e.g. backlink profiles, for investigation and research. Automation of the process saves time and energy for folks and businesses.
When searching for backlinks, a scraper is essential for obtaining info about the links that lead to a particular website or webpage. This is required for SEO strategies. Through analyzing these backlinks, marketers and SEO pros can get insights into their rivals' tactics and detect possible openings for their own sites.
Using a scraper eliminates the need for manual extraction of backlink data, which is lengthy and prone to mistakes. It can easily get comprehensive data about the backlinks connected to a particular website or webpage. In addition, automation makes sure precise results on a huge scale.
To get the most out of a scraper for finding backlinks, do the following:
Use advanced filters: Utilize the filters given by scraping tools to refine search results according to domain authority, anchor text relevance, or other criteria that match your objectives. This will help you focus on the backlinks that are most relevant and beneficial for your SEO efforts.
Monitor competition's link profiles: Regularly scrape your competitors' websites to monitor their latest backlinks and recognize any changes or trends. This will let you adjust your own link building strategy accordingly and stay ahead in your niche.
Analyze anchor text diversity: Carefully examine the anchor text used in the backlinks to check its diversity. A wide range of anchor texts shows natural linking patterns and avoids over-optimization penalties from search engines.
By following these tips and using the power of scrapers, you can quickly gather vital backlink data and gain an advantage in the world of SEO. Automation through scrapers saves time, provides accurate results, and unlocks valuable insights for improving your online presence.
Understanding backlinks and their importance
Backlinks, also known as incoming or inbound links, are from other websites that direct users to your website. They are essential for search engine optimization (SEO). Quality backlinks from good websites can boost visibility and rankings, plus drive organic traffic.
Not all backlinks are the same. Google uses factors like the authority of the linking site, the relevance of the content, and the anchor text in the link, to decide how much weight they should carry in their algorithms.
To build a strong backlink profile, strategize and be careful. Identify quality websites in your niche and reach out for collaboration or guest posting. Also, create valuable content to attract natural backlinks.
You need to understand backlinks if you want to improve online presence. With the right use of backlinks, you can enhance website credibility, increase visibility on SERPs, and drive more targeted traffic.
Fun fact: A study by Backlinko shows that websites with more quality backlinks usually rank higher on Google!
Choosing the right scraper tool for finding backlinks
Choosing the right tool for backlink hunting is the key to SEO success. It must scrape data efficiently. Consider features, price & user-friendliness.
We have 3 options:
ScrapeBox – Multithreaded, keyword research, link checker, $97.
Ahrefs – Backlink analysis, keyword research, site explorer, $99/month.
Moz Pro – Backlink analysis, rank tracking, keyword research, $99/month.
Also, search for unique tools that may provide advantages or extra functionalities.
A digital marketing agency had trouble tracking their client's backlinks. They tried different scrapers & used Ahrefs. The result? Their client's search rankings increased.
The right scraper tool is a game-changer!
Step-by-step guide to using a scraper to find backlinks
Exploring the past unveils that web scraping for backlinks has been used since search engines began using them for assessing website authority. Through time, webmasters have exploited scrapers to get an insight into their competitors' link profiles.
Developments in technology have improved scrapers, making them more user-friendly. Hence, there is a wide variety of scraper tools marketers can use nowadays.
Utilizing a scraper to discover backlinks can be advantageous for obtaining data about the links pointing to a given web page. To begin, you need a dependable web scraping tool. There's a plethora of free and paid options to choose from.
After finding the right tool, enter the target URL and set up the scraper. Then, start the scraping process and let the tool crawl through the webpages linked from the target URL. The data collected on the external links can help scrutinize their relevance and authority.
Analyzing and evaluating the discovered backlinks
Let's delve into the elements involved with this process: Backlink Source, Anchor Text, Relevance, Domain Authority, and Page Authority.
A high-quality website, with descriptive and relevant text, close to our niche, an authoritative source with high credibility, and a strong influence on search rankings for targeted keywords is essential. On the other hand, a low-quality directory site may not be as beneficial.
Analyzing backlinks is key to recognize patterns and correlations that can help refine our website's SEO strategy. Looking for relevancy, domain authority, and anchor text, we can make sure incoming links are favorable to our online presence.
In today's digital atmosphere, do not underestimate the power of quality backlinks. Optimizing our backlink profile based on careful analysis ensures we stay ahead of the competition and maintain a strong online presence.
Don't miss out on unleashing the potential of your backlink plan! Take the appropriate steps to analyze and evaluate your backlinks now, to unlock the full potential of your website. Remain ahead of the game and experience the advantages of a well-optimized online presence.
Utilizing the found backlinks for SEO and link building strategies
Utilizing backlinks found can benefit SEO and link building strategies. Incorporating them into content allows for increased visibility and better search engine rankings. Achieve this by creating high-quality, relevant content with backlinks. Let's look at how they impact SEO and link building!
Benefits of Backlinks:
Enhanced Visibility: Backlinks increase a website's visibility on search engines.
Improved Ranking: Reputable websites linking back to content leads to higher rankings.
Increased Traffic: Referral links from other websites drive organic traffic.
Using backlinks also allows connection with other websites. This can lead to collaboration, guest blogging and potential partnerships.
Backlink utilization for SEO and link building has been around since the start of search engines. Algorithms were introduced to determine website rankings based on relevant links. This importance of quality backlinking has grown over time, as search engines prioritize trustworthy sources.
Best practices and tips for successful backlink scraping
Backlink scraping yields valuable info for web owners and marketers. It requires a scraper tool to gather data on backlinks pointing to a website. Here are some best practices and tips:
Use a reliable scraper tool. Pick a reputable and efficient one that can process large volumes of data accurately.
Customize scraping parameters. Set parameters like crawling depth, domain authority, or relevance to gather relevant and high-quality backlinks.
Update scraped data often. Link profiles can alter over time due to link removals, additions, or modifications. Re-scrape the websites periodically to keep data up-to-date.
It's important to respect websites' terms of service and avoid illegal or unethical practices. Obtain permission before scraping any website and follow laws and regulations.
An interesting true story related to backlink scraping: In 2017, an SEO expert found an ingenious way of using backlinks with a customized scraper tool. This technique improved organic search rankings for many websites. The discovery highlighted the importance of leveraging innovative tools for successful backlink scraping.
Remember when using backlink scraping, stay within legal boundaries and make ethical choices. Following these best practices and tips can help you analyze competitors' link profiles and optimize your own link building efforts for better search engine rankings.
Potential challenges and how to overcome them
Potential challenges can arise when scraping for backlinks. But, there are strategies to overcome them. Firstly, ensure the scraper can handle large data sets. Secondly, utilize rotating proxies and delays to deal with anti-scraping measures. Thirdly, use search filters to identify relevant backlinks. Fourthly, validate obtained backlinks with validation techniques. Lastly, databases or cloud platforms can help manage and organize the data.
It's important to note that scrapers have changed with time due to advances in technology. Previously, finding backlinks was very time consuming and used up resources. Now, web scraping tools have made this process more efficient.
For example, Google's Penguin algorithm update in 2012 caused businesses to face a new challenge. Google rewarded high-quality organic backlinks instead of manipulative links. Scrapers then needed to ensure backlinks were legitimate and followed Google's guidelines.
In conclusion, while there are difficulties when scraping for backlinks, using strategies to handle large data sets, avoid anti-scraping measures, employ search filters, validate links, manage data storage, and adapt to changes will ensure success. Scrapers have revolutionized the way we find backlinks by streamlining processes that used to be extremely time consuming.
Conclusion
We've chatted about using scrapers to find backlinks. It's clear this tool has amazing potential for SEO success. Automating the process of finding and analyzing backlinks saves businesses time and money. Scrapers enable marketers to get info on competitors' link profiles, spot top-notch sites for outreach, and build their own website's authority.
Scrapers don't just make it easier to spot backlinks, they give data that can help with decisions. Marketers can prioritize outreach by focusing on sites with related content and good domain authority. Plus, they can detect toxic or spammy links and take action to keep a clean link profile.
John, an ambitious entrepreneur, had trouble increasing his website visibility in search engine rankings. He started using a scraper and found not only his own backlinks, but also those of his competitors. With this knowledge, he contacted impactful websites in his industry which led to more organic traffic and better search engine rankings.
Frequently Asked Questions
1. What is a backlink scraper?
A backlink scraper is a tool or software that is designed to crawl the internet and collect information about backlinks pointing to a specific website or web page. It extracts data such as anchor text, source URL, and link status to help gain insights into a website's link profile.
2. How does a backlink scraper work?
A backlink scraper typically works by using web crawling techniques to traverse the web and identify links pointing to a specific website. It analyzes HTML code, extracts the necessary information, and stores it in a database or a file for further analysis or reporting.
3. What are the benefits of using a backlink scraper?
Using a backlink scraper can provide valuable insights into a website's backlink profile. It can help analyze competitor link profiles, identify potential link-building opportunities, monitor the quality of backlinks, and track the effectiveness of link-building campaigns.
4. Are there any limitations to using a backlink scraper?
Yes, there are a few limitations to using a backlink scraper. Some websites may have measures in place to block or limit web scraping activities, which can hinder the effectiveness of the scraper. Additionally, the accuracy of the data collected by the scraper may vary depending on the source and the scraper's techniques.
5. What features should I look for in a backlink scraper?
When choosing a backlink scraper, consider features such as the ability to crawl a large number of websites, easy-to-use interface, customizable data extraction options, support for various data formats, and the ability to schedule and automate scraping tasks.
6. Are there any legal considerations when using a backlink scraper?
It is essential to familiarize yourself with the legal considerations surrounding web scraping before using a backlink scraper. Make sure you comply with the website's terms of service, do not scrape private or copyrighted content, and respect the website's limits and restrictions on scraping activities.
{
"@context": "https://schema.org",
"@type": "FAQPage",
"mainEntity": [
{
"@type": "Question",
"name": "What is a backlink scraper?",
"acceptedAnswer": {
"@type": "Answer",
"text": "A backlink scraper is a tool or software that is designed to crawl the internet and collect information about backlinks pointing to a specific website or web page."
}
},
{
"@type": "Question",
"name": "How does a backlink scraper work?",
"acceptedAnswer": {
"@type": "Answer",
"text": "A backlink scraper typically works by using web crawling techniques to traverse the web and identify links pointing to a specific website."
}
},
{
"@type": "Question",
"name": "What are the benefits of using a backlink scraper?",
"acceptedAnswer": {
"@type": "Answer",
"text": "Using a backlink scraper can provide valuable insights into a website's backlink profile, analyze competitor link profiles, identify potential link-building opportunities, monitor the quality of backlinks, and track the effectiveness of link-building campaigns."
}
},
{
"@type": "Question",
"name": "Are there any limitations to using a backlink scraper?",
"acceptedAnswer": {
"@type": "Answer",
"text": "Yes, there are a few limitations to using a backlink scraper. Some websites may have measures in place to block or limit web scraping activities, and the accuracy of the data collected may vary."
}
},
{
"@type": "Question",
"name": "What features should I look for in a backlink scraper?",
"acceptedAnswer": {
"@type": "Answer",
"text": "When choosing a backlink scraper, consider features such as the ability to crawl a large number of websites, easy-to-use interface, customizable data extraction options, and automation capabilities."
}
},
{
"@type": "Question",
"name": "Are there any legal considerations when using a backlink scraper?",
"acceptedAnswer": {
"@type": "Answer",
"text": "It is essential to familiarize yourself with the legal considerations surrounding web scraping before using a backlink scraper, respecting website terms of service and avoiding scraping private or copyrighted content."
}
}
]
}