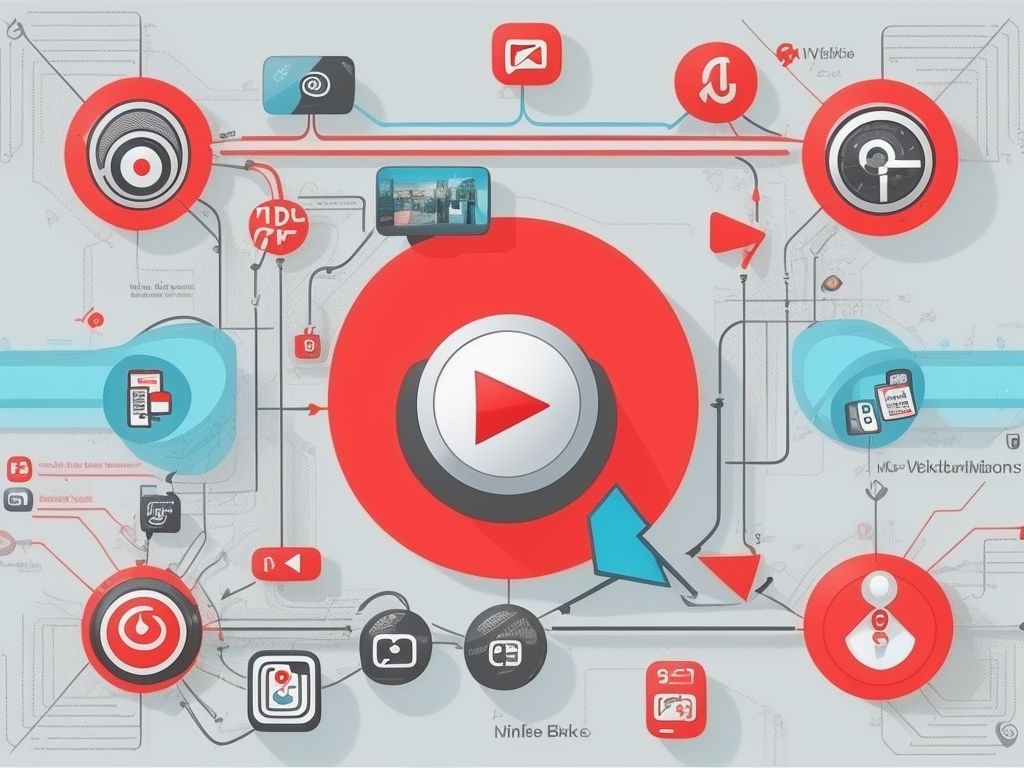 Backlinks are a must for boosting the visibility and ranking of your YouTube videos in digital marketing. They act as pathways that link your videos to other related websites, increasing their reach and reliability.
Want to know how to get backlinks for YouTube videos free? Here's the answer!
Creating backlinks needs a strategy that focuses on getting quality links from dependable sources. Try leveraging social media like Facebook, Twitter, and Instagram. Share your video links with catchy captions or posts. This increases exposure and encourages viewers to share your content, creating organic backlinks.
Another way is to guest post on trustworthy blogs or websites in your niche. Write articles with embedded links to your YouTube videos. By giving useful insights and info in these guest posts, you can boost a wider audience and build quality backlinks.
You may also team up with influencers or industry experts. Partnering with those who have a large following in your niche will tap into their influence and potential viewership. Collaborate for video projects or ask them to feature your content. This will bring more backlinks and exposure.
Remember, creating backlinks takes time and effort. You must consistently produce high-quality content that resonates with your target audience. This will draw valuable connections and link-building opportunities.
What are backlinks and why are they important for YouTube videos?
Backlinks are hyperlinks that lead from one website to another. On YouTube, backlinks are important. They help boost visibility and ranking of videos in search engine results. When websites with high quality link to a YouTube video, search engines think the video is true and relevant.
This visibility can mean more organic traffic to the video. Plus, it could mean more engagement from viewers. Backlinks also help a YouTube channel become more authoritative and credible. This can result in more subscribers and opportunities for collaborations with other content creators.
In addition, backlinks help with off-site SEO. When viewers click on a backlink to a YouTube video, they go to the channel and watch the video. This increases views and exposes the video to more people, who might become regular viewers or share it.
Pro Tip: Focus on quality, not quantity, when building backlinks for YouTube videos. Target reputable websites and influencers in your niche who have a strong online presence. High-quality backlinks from authoritative sources have a bigger impact than numerous low-quality links.
How to find websites and platforms to create free backlinks for YouTube videos
Discovering sites and platforms to make free backlinks for YouTube videos is a must for upping your video's online visibility. Leveraging these resources, you reach a broader audience and improve the possibilities of your video being discovered. Here are some great ways to find these platforms:
Social Media Groups: Join related social media groups or communities where content creators share their videos. Engage with others and create connections to get chances for backlink swaps.
Online Forums and Communities: Participate in online forums and communities related to your niche. Give valuable insights and provide useful solutions to become an authority. This can lead to others linking your YouTube video via backlinks.
Influencer Collaborations: Team up with influencers in your industry to significantly boost the visibility of your YouTube video. Connect with influencers who fit with your content and propose partnerships that include backlinking each other's videos.
Guest Posting: Look for sites or blogs that take guest posts and let you include links in the content. Write quality articles related to your video topic, making sure it provides value to readers, and add backlinks to your YouTube video.
Also, it's important to do thorough research on potential websites and platforms before making backlinks. Assess their domain authority, relevance, and engagement metrics. Backlinks from reliable sources will raise the credibility of your YouTube channel.
Pro Tip: Don't forget that creating valuable content should be a priority when using backlinks. The quality of your videos will determine if viewers will interact with them or not.
By following these strategies, you can effectively find websites and platforms that offer chances for creating free backlinks for your YouTube videos. Start putting these techniques into action today and witness the growth of your channel's visibility in no time!
Strategies to create backlinks for free
Generate backlinks for your YouTube videos to boost their success! Here are some effective strategies you can use:
Partner with other YouTubers to gain access to their audience and create backlinks with collaboration videos or shoutouts.
Write articles related to your video content and share them on reputable websites in your industry. Include a link back to your YouTube video in the author bio or the article.
Leverage social media platforms like Facebook, Twitter, Instagram, and LinkedIn to promote your video. Encourage others to share it too!
Create attention-grabbing thumbnails and titles to draw viewers in and make them more likely to link to your video.
Engage with your audience by responding to comments and connecting with them. This will boost engagement and increase the chances of organic sharing.
For even better results, remember to:
Look for websites with high domain authority to increase the value of your backlink.
Choose blog or website topics that align with your niche.
Share teasers of your videos on social media with a link to the full-length version.
Implement SEO strategies such as keywords in descriptions, tags, and titles.
Utilize YouTube cards and end screens to promote other related videos.
By consistently following these strategies, you can create a strong network of backlinks to your YouTube videos and improve their visibility. This will lead to an increased following and success for your channel!
Tips for optimizing backlinks for YouTube videos
The fame of YouTube videos is skyrocketing. Optimizing backlinks has become indispensable for content creators. Here are some tips to gain visibility for your YouTube video:
Join forces with Influencers. Partner with in-demand YouTubers in your niche. This builds organic backlinks and supports your content & audience.
Become a Guest Blogger. Promote your YouTube channel by writing on related blogs. Include a link to your video.
Harness Social Media. Use Facebook, Twitter, & Instagram to boost your YouTube videos. Engage with your audience and embed links.
Promote Sharing. Give viewers easy access to share your video. This creates backlinks and increases your reach.
Optimize Your Video. Tweak your video for its specific target audience.
Sarah, a YouTuber, was having trouble getting views for her makeup tutorials. She collaborated with a well-known beauty influencer who shared her tutorial on their channel. This collaboration not only amplified Sarah's visibility, but also drew new subscribers easily via the backlink.
Conclusion
These strategies are great for getting free backlinks for YouTube videos. Use them to make your content more visible.
Optimize your video title, description, and tags with the right keywords.
Interact with other YouTubers and promote your videos on social media.
Participate in online communities and forums related to your niche. Share your content and build connections.
By consistently using these tips, you can get backlinks for YouTube videos and make them more visible online.
Frequently Asked Questions
FAQs: How to Create Backlinks for YouTube Videos for Free
Q1: What are backlinks for YouTube videos?
A1: Backlinks for YouTube videos are external links that direct users to your YouTube video, helping to increase its visibility, reach, and search engine rankings.
Q2: Why are backlinks important for YouTube videos?
A2: Backlinks are important for YouTube videos as they enhance the likelihood of your video being discovered by a wider audience, resulting in increased views, engagement, and potential subscribers.
Q3: How can I create backlinks for my YouTube videos?
A3: You can create backlinks for your YouTube videos by:
Sharing the video link on social media platforms
Embedding the video on relevant blog posts or websites
Participating in forums or communities and including the video link in your posts
Collaborating with other YouTubers, who can link to your video in their videos or descriptions
Q4: Are there any specific websites or platforms that can help in creating backlinks for YouTube videos?
A4: Yes, there are several websites and platforms that can assist in creating backlinks for YouTube videos, such as:
Social bookmarking websites like Reddit, Pinterest, and Digg
Video sharing sites like Vimeo and DailyMotion
Blog and forum platforms like WordPress, Blogger, and Quora
Social media platforms such as Facebook, Twitter, and LinkedIn
Q5: Should I focus on getting backlinks from high authority websites?
A5: While backlinks from high authority websites can provide greater exposure and credibility to your YouTube video, it is also essential to gain backlinks from relevant and niche-specific websites for better targeted traffic and engagement.
Q6: Are there any risks involved in creating backlinks for YouTube videos?
A6: Creating backlinks for YouTube videos can be beneficial, but there are a few risks to consider. Ensure you follow guidelines set by search engines to avoid spammy or low-quality backlinks, as they can result in penalties and harm your video's visibility.
{
"@context": "https://schema.org",
"@type": "FAQPage",
"mainEntity": [
{
"@type": "Question",
"name": "What are backlinks for YouTube videos?",
"acceptedAnswer": {
"@type": "Answer",
"text": "Backlinks for YouTube videos are external links that direct users to your YouTube video, helping to increase its visibility, reach, and search engine rankings."
}
},
{
"@type": "Question",
"name": "Why are backlinks important for YouTube videos?",
"acceptedAnswer": {
"@type": "Answer",
"text": "Backlinks are important for YouTube videos as they enhance the likelihood of your video being discovered by a wider audience, resulting in increased views, engagement, and potential subscribers."
}
},
{
"@type": "Question",
"name": "How can I create backlinks for my YouTube videos?",
"acceptedAnswer": {
"@type": "Answer",
"text": "You can create backlinks for your YouTube videos by sharing the video link on social media platforms, embedding the video on relevant blog posts or websites, participating in forums or communities and including the video link in your posts, and collaborating with other YouTubers who can link to your video in their videos or descriptions."
}
},
{
"@type": "Question",
"name": "Are there any specific websites or platforms that can help in creating backlinks for YouTube videos?",
"acceptedAnswer": {
"@type": "Answer",
"text": "Yes, there are several websites and platforms that can assist in creating backlinks for YouTube videos, such as social bookmarking websites like Reddit, Pinterest, and Digg, video sharing sites like Vimeo and DailyMotion, blog and forum platforms like WordPress, Blogger, and Quora, and social media platforms such as Facebook, Twitter, and LinkedIn."
}
},
{
"@type": "Question",
"name": "Should I focus on getting backlinks from high authority websites?",
"acceptedAnswer": {
"@type": "Answer",
"text": "While backlinks from high authority websites can provide greater exposure and credibility to your YouTube video, it is also essential to gain backlinks from relevant and niche-specific websites for better targeted traffic and engagement."
}
},
{
"@type": "Question",
"name": "Are there any risks involved in creating backlinks for YouTube videos?",
"acceptedAnswer": {
"@type": "Answer",
"text": "Creating backlinks for YouTube videos can be beneficial, but there are a few risks to consider. Ensure you follow guidelines set by search engines to avoid spammy or low-quality backlinks as they can result in penalties and harm your video's visibility."
}
}
]
}