There are many free backlink checker tools you can use on the internet to check the backlinks of any website. These help you check the overall quality of competitor sites and see where they get links from. 
In this article, you will be introduced to two backlink checkers that are available for free online and definitely worth trying.
---
Ahrefs.com
The first backlink checker I recommend is Ahrefs.com, the second most active crawler after Google. Ahrefs has a very in-depth and comprehensive backlink database, which means most of the information you get here is going to be fairly accurate.
---
How it works?
To begin using Ahrefs, all you have to do is simply type in a particular URL on the search bar. You can also choose whether to include subdomains or just see the exact URL.
After that, all the backlink details from the website will automatically be right in front of you.
Once you get to the backlink profile, you will see the site's domain rating to help you measure a website's authority.
It will show the quantity and quality of all the backlinks going to the site and their domain rating score on a scale of zero to one hundred.
You can also see how many backlinks and referring domains the website has, with their corresponding dofollow percentages. Backlinks refer to the total number of links, including multiple duplicate websites, directed to different places.
Whereas referring domains refer to a measure of how many unique URLs are pointing to the site.
You will also get a breakdown of the top 100 backlinks, top five anchor texts, and top five pages with the most backlinks.
The list of the top 100 backlinks is very useful for you to be able see the domain rating, referring domains, and traffic of your own backlinks, as well as your competitors'.
The list of the top five anchor texts allows you to see the most clicked words that get people to a link, how many of these links are dofollow, and their total referring domains.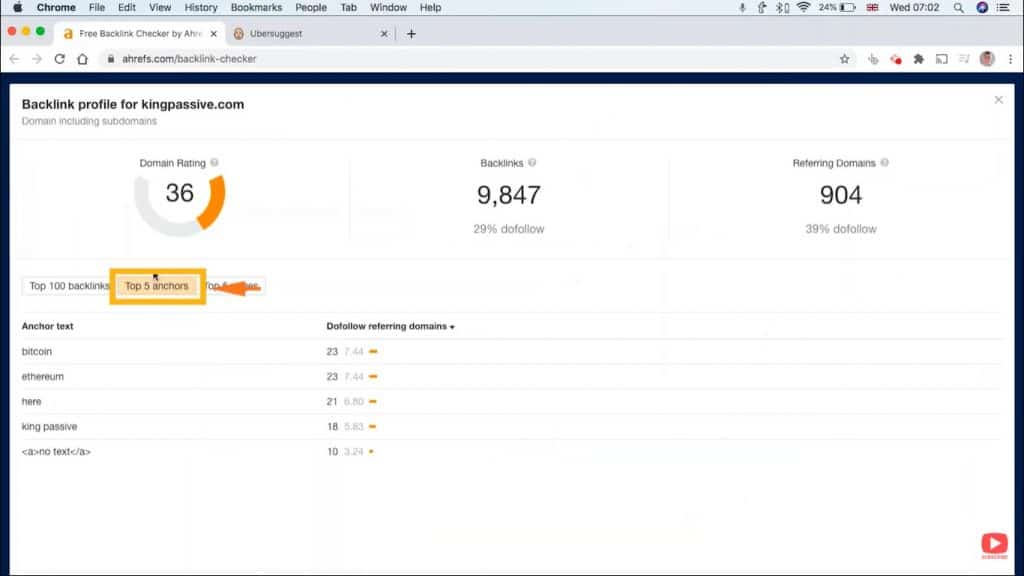 Lastly, the list of the top five pages contains UR rating, number of dofollow links, and when the site was first viewed.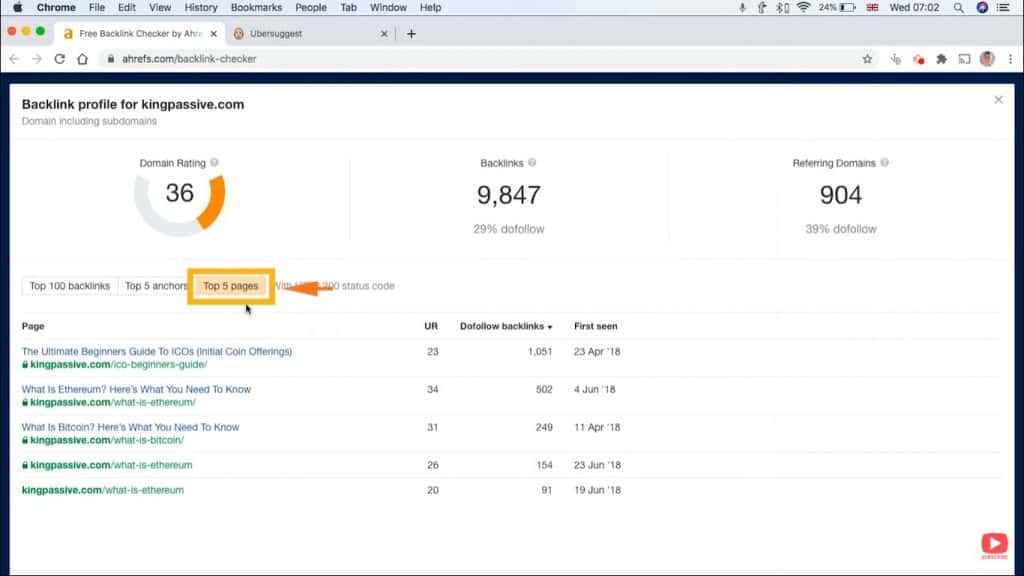 Although the free version of Ahrefs already gives you a fairly decent backlink checker, some sections and data can only be accessed on its paid plan.
---
Neilpatel.com
The second one is a free alternative to Ahrefs called Neilpatel. This is another useful backlink checker to find out who links to you and your competition, as well as offer you a full scope of a backlink profile.
---
How it works?
Neilpatel.com functions similarly to Ahrefs; you start your backlink checking by typing a URL into the search bar. This will give you a breakdown of that site's backlinks and a report of the site's profile.
In this tool, the domain score is the same as the Ahrefs domain rating. It also checks the website strength from zero to a hundred in terms of the amount of authority that the website has.
Remember, the more authority a website has, the easier it's going to be to rank.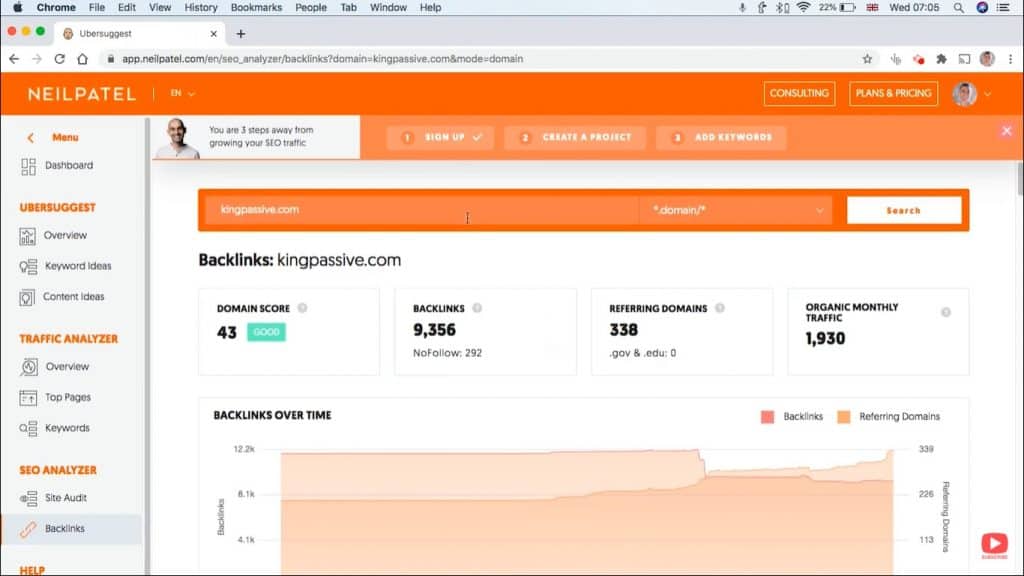 You can also see the total number of backlinks and how many of those are nofollow versus dofollow, the number of referring domains, how many of them end in '.gov' and '.edu', and even the organic monthly traffic to that site.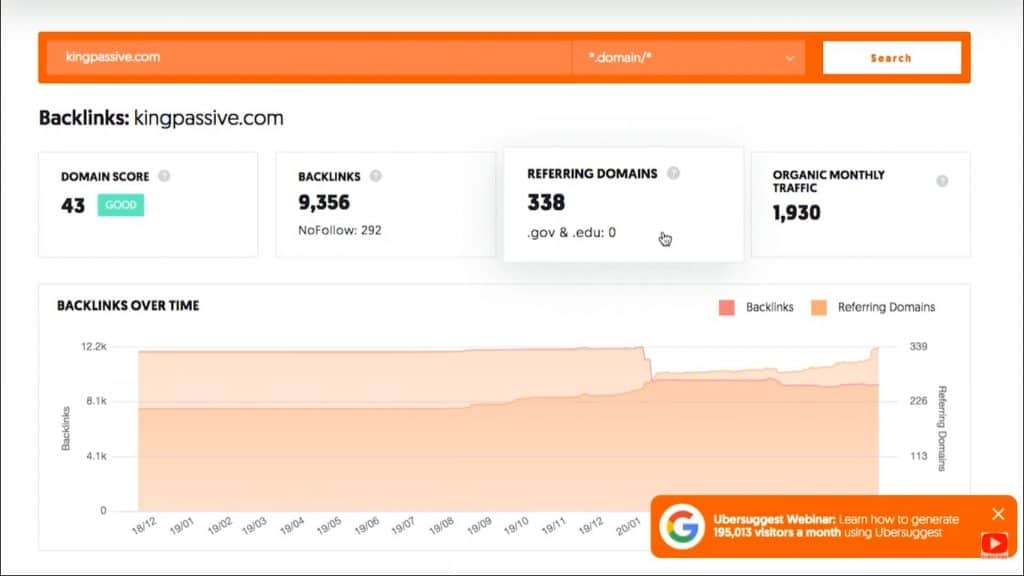 This tool also shows graphs of backlinks over time, as well as new and lost backlinks.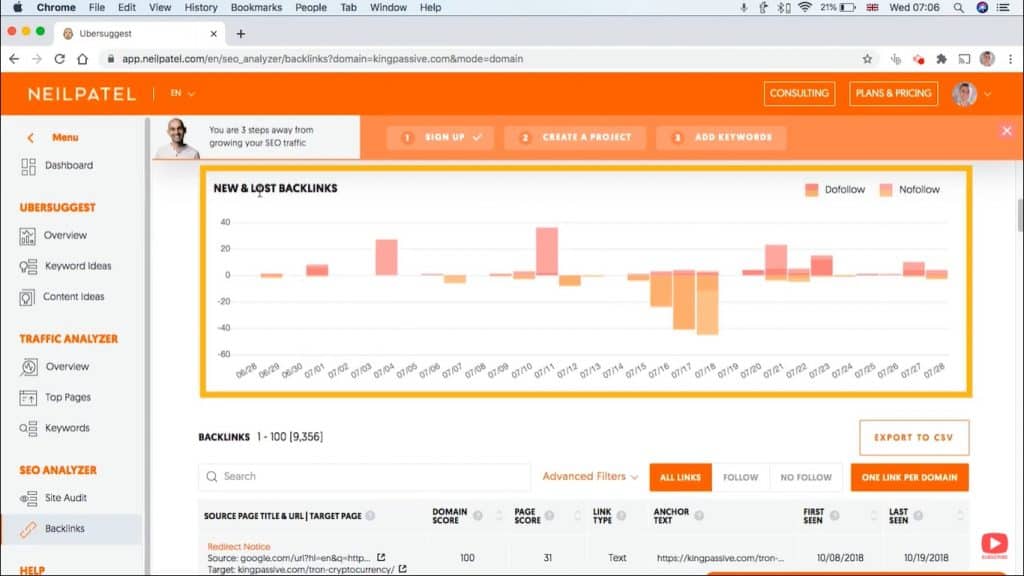 You can answer a number of questions using this tool. Have the backlinks increased over time? Is the website doing active link-building? How many links are coming in and how many have been lost?
In addition, you will also get a figure of how many backlinks this website has with the option to see all links, both follow and nofollow.
Each link will give you a breakdown of the page title, URL, the domain score of each website that's linking to it, the page score, link type, and the anchor text being used. You will also see when the link was first indexed versus when it was last seen.
Basically, with Neilpatel, you can already check out many backlinks of a particular website, but if you want the full stack of data, you can opt to upgrade and pay a little extra.
So maybe one day you look at your website and you get all these questions in your head like "What kind of backlinks are pointing to my site? Are they high quality? Do I need to disavow any? What sites do my competitors link into? Should I link on these websites too?"
Or maybe you're planning to buy a website in the future and you're thinking "Is it a clean backlink profile? Have they been building backlinks legitimately? How many backlinks does that website have?"
There is only one way to figure it out; use a backlink checker. Sites such as Ahrefs and Neilpatel are very useful for your backlink-checking needs, and you can try both of them for free.