Introduction
Are you looking to hire a company for link building services?
Link building is an integral part of any SEO strategy. It's important that you find the right company for your needs.
Or else it could end up costing you more than just money.
If you need help finding the right company, this article will point out some things to look out for before signing on with anyone.
Our team has years of experience in online marketing and SEO link building. So we know exactly what makes an agency great – and how not to get scammed by the bad ones!
Let's get started.
What Is Link Building?
Link building is the process of getting other web addresses to refer to your website with a hyperlink!
In Google's eyes, referring backlinks are counted as votes that validate the power and popularity of your website or blog.
The more backlinks your website/ blog has pointed to it, the higher Google will rank your website in SERPs.
And with higher rankings, you can expect better traffic and a significant increase in customers (More $$$$).
What's The Benefit Of Hiring For Link Building Services?
You can save time by having link building services performed by an SEO company.
As time is the one thing that we always seem to lack – especially when it comes to SEO.
There's also the question of where to even begin with link building.
Especially for business owners who lack the resources or experience required to ensure successful results.
Here are some benefits as to why hiring for link building services is a good idea:
You don't have to spend time on link building. So you can focus on other aspects of your business while you let the experts handle link building for you.
Hiring an experienced SEO company for link building services increases the likelihood of your site ranking well in search engines. Helping you achieve higher rankings faster and stay ahead of your competition.
Avoid getting penalized by Google for low-quality links. Which can occur as a result of a lack of knowledge on your part.
Reduce stress and increase your own productivity
That said, how do you find out if a company is right for you? Let's find out.
Some Tips For Hiring Link Building Services
Here are some things that you should consider before making the investment.
Experience
It's imperative that the company that you choose must have a proven track record of successful link building campaigns.
Make sure to find out what kind of results they have achieved for previous clients, and whether or not these results were sustained in the long term.
You could also ask for references from people who have hired them before or read up on the company's client testimonials.
You can also check out their website's blog, where you should be able to find some useful information on what they do and how they go about it.
If the company that you are considering hiring does not have a blog or a portfolio of completed projects, then that should be a clear indication that they are not experienced enough.
Transparency In Communication
Before you sign any contracts, you should consider communicating with your prospective SEO company to see how they communicate.
For example, does the company have a regular schedule when it comes to reporting their progress, or do they value flexibility in this regard?
Regardless of the agency that you choose, make sure that there is a clear process that is followed in terms of reporting and communication.
Go for an agency that values transparency and consistency, as it will make it easier for you to manage the partnership.
You don't want to deal with an agency that responds only when it feels like it.
Doesn't Promise Instant Output
We understand that you want to see results as soon as possible, but an agency must be given enough time to build high-quality links.
Instant gratification is a common trend in today's society. Unfortunately, this mentality often extends to the business world as well.
Many businesses are looking for short-term solutions that will provide them with quick results.
This often leads to hiring an SEO agency that promises to get them to the top of the search engine results pages (SERPs) within a week or month.
However, achieving high rankings in a short period of time is unrealistic and is only a cheap marketing tactic to get you on board with an agency.
And more often than not they will fail to deliver.
One of the most important things to remember when hiring an SEO agency is that good results don't happen overnight.
If an agency claims to be able to get your website to the top of the search engines in a very short amount of time.
Then it's likely that they're using black hat tactics which could get your website penalized by Google.
Instead, look for an SEO agency that is transparent and willing to share their methods with you.
Be prepared to wait a few months before seeing any significant results.
If an SEO agency is upfront about the fact that it will take a few months to provide results, then it is a good sign.
You should always avoid going for an agency that promises quick results.
The Agency Shares Clear And Realistic Goal With You
A good agency will set clear goals laid out in writing, as it keeps you informed about what to expect and holds them accountable for the results.
The goals should be realistic and achievable, as this will provide a clear benchmark to determine whether or not the company is doing a good job.
If you don't feel comfortable or it sounds too good to be true – then it's probably best that you look elsewhere.
In addition, it is also important to see whether or not the agency has clearly defined success metrics.
The company should be able to tell you how they will measure their results and what the limits are in terms of rankings.
At the end of the day, you're not just hiring an SEO agency to build links for you. You're looking for an expert that will drive more traffic to your website and provide long-term results.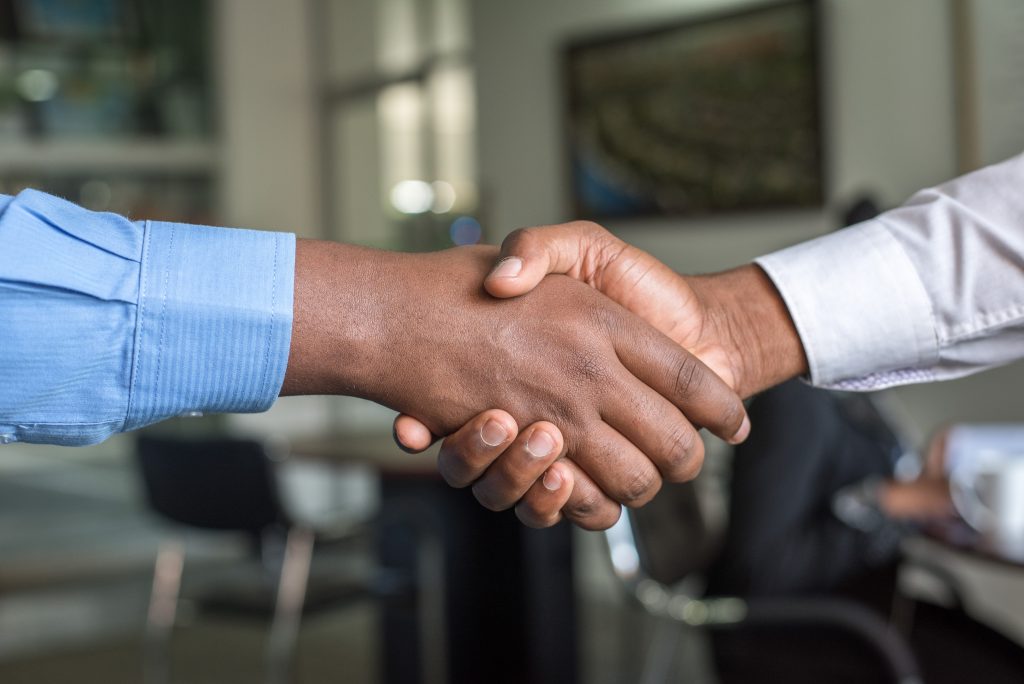 Warning Signs You Should Look Out For
When you are looking to hire an SEO agency, there are some red flags that you should look out for.
Agencies Using Pushy Sales Tactics
Oftentimes, it isn't easy to weed out the good agencies from the bad ones. So it's always a good idea to do some research before signing a contract.
If an agency is trying real hard to pressure you into making a quick decision, then it's best that you look elsewhere.
The agency that you are looking to hire should be one that cares about your business and wants to provide results you can count on.
Don't feel pressured into signing with an SEO agency because its representatives are too pushy for your comfort.
If they can't respect your need to do some research before signing a contract, then they are not worth your time.
Agencies That Don't Have A Website
If you're hiring an SEO company and they don't have a website, then it's another sign that you should look elsewhere.
The best SEO companies should have a website that provides information about the services they offer and their expertise in the industry.
An agency without a website isn't an agency at all. It's either a scam or it's an amateur company trying to make some quick money, neither of which are trustworthy or reliable.
If an agency isn't serious enough to work on their own brand (website) then how do you expect them to work on your brand?
High Client Turnover
Another warning sign to watch out for is high client turnover. If an agency has a lot of clients leaving them after one or two months, then there's probably a good reason for this.
An SEO company should aim to provide long-term results and not be in it just for short term gains. They should have long-term plans with you and your business.
If they don't, then it's time to move on and find an SEO company with a good reputation and lots of experience in the industry.
The Bottom Line
SEO is an investment in the future, not just something you can buy off the shelf. If an agency tries to sell you this line of thinking then it's probably not the company for you.
There's no such thing as a magical formula that will skyrocket your website to the top of Google.
If an agency is only after short term gains and quick wins, then the long term effects will not be in your best interest.
An SEO company should have a set of core values that they believe in, which is why it's so important to take your time before making a decision.
Good agencies will be able to provide you with proven results and a long-term strategy that will benefit your website rankings.
Thanks for reading and I hope this article was helpful to you!
Kind Regards,
Julian Goldie.
As a link building agency owner myself, I understand how important it is for you to find the best link building company for your needs.

If you are looking to jumpstart your website's credibility and performance, then I encourage you to contact me and learn more about how we can help you achieve your goals.

We'll provide you with a free consultation where we discuss your objectives and how we can help you achieve those goals.

If you'd like to see what our customers think about their experience with us, then feel free to check out our testimonials page here: Client Reviews.