It may seem like a great idea to look for free SEO backlinks on Reddit.
You've probably heard of people getting tons of "legit" traffic from Reddit, with very little effort, and you're wondering if this is going to work for you too.
Plus, Reddit has a high domain authority, and it would make sense that it should be helpful for SEO.
But don't rush to build your Reddit profile. Reddit backlinks are not what you think they are.
They're actually a big waste of time when it comes to SEO, and for multiple reasons that I'll address below.
The reality is that they don't count for much when it comes to authority and link juice for your website's search ranking. (Reddit backlinks are not DoFollow links)
But before we do that, we'll briefly cover what Reddit is and how it works.
>>> Want high quality, authoritative backlinks? Order here.
What is Reddit?
Before we move to Reddit backlinks, let's first understand what Reddit is!
Reddit is a social news website that serves as entertainment, social networking service, and news source where registered community members can submit content such as text posts or direct links.
Registered users can then vote submissions "up" or "down" to organize the posts and determine their position on the site's pages. Content entries are organized by areas of interest called "subreddits".
Who can post on Reddit?
Any user who registers an account and confirms the registered email id can submit content on Reddit. This makes Reddit a great platform for users to share their thoughts and ideas on various topics.
Additionally, the voting system ensures that the best content rises to the top, while the worst content is hidden from view. In the end, Reddit is all about making online information accessible to everyone.
So why are Reddit backlinks not good for SEO?
Why Forum (Reddit) backlinks won't help
Your posts are easily downvoted and marked as spam on Reddit.
This is because Reddit users downvote or spam any type of post that they deem useless or irrelevant to the subreddit's community.
Reddit users will only upvote useful and valuable content that they deem "entertaining" or "funny".
So if you're looking for a way to get tons of free traffic from Reddit, then it's not going to happen.
Secondly, Reddit users are vicious freaks who are always vigilant to catch spammers.
If they think you're spamming their subreddits with useless content, then they will make sure you get banned from the platform for eternity.
And it's not just that. Reddit uses a user reputation system (called Karma) to ensure that users only engage in healthy and productive discussions.
This means that you need to build Karma on Reddit before submitting links to your website or blog posts.
If you have low karma, then most likely your post will be marked as spam because users don't take kindly to low-karma accounts posting self-promotional content on their subreddits.
Most of the Reddit backlinks you build on forums are nofollow links
This is a piece of code: <a href="https://www.website.com/"rel="nofollow">Link Text </a> automatically generated on Reddit's website that basically says don't pass any link juice or authority from Reddit's website to yours.
This means that Reddit is not going to help your website rank higher on Google.
The majority of people don't even know what nofollow links are (unless they're professional link builders), but if you're serious about SEO then it's good for you to understand the basics.
Google also says no to forum backlinks
In fact, Google is looking to penalize sites with forum backlinks.
That's because these links aren't editorially placed (they're generated by users), and Google finds them spammy (unnatural links).
So if you want to stay in Google's good graces, try not to get forum backlinks for SEO link building.
Just don't do it.
Here's a link to Google's post about it.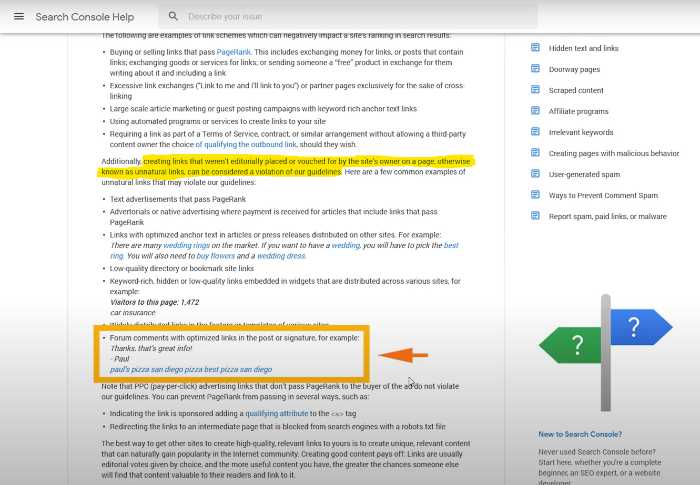 Here's how you should build Reddit Backlinks instead
If you're looking for ways to get tons of traffic through link building on Reddit.
Then what you should really focus on is finding niche forums that are relevant to your industry, and provide MASSIVE value to these communities.
This could be in the form of tutorials, giveaways that provide value to your target audience, tons of useful resources for these communities etc.
So long as it's not a blatant attempt or just a link to your website buried somewhere in the post.
It's important that you take the time to understand your target communities before building links on them.
This will earn people's trust (and their votes), which will make it easier for you to gain higher levels of karma on Reddit.
Because without a clear understanding of what they need and want, ​then there is no way you can provide valuable content for them so they will build links back to you.
How To Get A Do-follow Backlink From Reddit?
To get a do-follow link from Reddit, you have to be one of the hottest posts on that subreddit. It's as simple as that!
The front page of subreddits are filled with popular posts. If you want to dominate the "Hot" or "Rising" section, your post needs to be insanely good!
All you have to do is focus on creating exceptional content. Create something that's so valuable for your target audience, it's impossible for people not to vote for it.
How To Get Traffic From Reddit
Reddit's algorithm counts votes to determine whether or not your link should be shown on the front page.
The more votes you get, the higher it will rank (and thus receive more traffic). The better your content is, the more votes it will get!
Here are some ways that will help you get more votes from Reddit:
Submit your link to the right subreddit: If you submit a link in a subreddit that's completely irrelevant, nobody is going to vote for it. This means that you're getting 0 votes and 0 traffic from Reddit.
Create quality content: When people read your content, they will know whether or not it's valuable enough to vote for. Provide value to the Reddit community, and they'll reward you with votes.
Reply to comments: When people read your content, they're going to have questions about it. And that's where you can provide answers and earn votes.
Make it about them: Instead of just writing a generic article and posting the same thing on multiple subreddits, create unique content for each subreddit. Make them believe that you're answering their questions and giving them what they want. Or at least try to.
The bottom line
What you need to understand is that the traffic from Reddit can be very high-quality, and this is what you really want to focus on if you're interested in getting long-term traffic.
Aside from Reddit, you also want to focus on getting a quality backlink from other blogs or websites in your industry.
These are natural editorial links for SEO, and they'll help Google crawl your website better so you can rank higher.
And this is what you should be focusing on if your goal is to build authority with search engines as fast as possible.
Check out my blog here on how you can do this.
But they must first be able to understand the SEO market for your niche and have a proven track record of providing links from blogs and websites in the industry.
This will ensure that you get value for money when it comes to outsourcing this task.
Because agencies and companies providing bad links (spam) will only hurt your rankings in the long run.
Here's a guide on how you can outsource your Link Building Strategy to an Agency.
Conclusion
Always remember, build links from websites and sources that are relevant to your industry.
Links from irrelevant websites won't help you in any way, so it's better if you avoid them altogether.
And if you build your links from websites that are relevant to your industry, then it's a big step closer to getting natural editorial links.
This means your site will look more authoritative in Google's eyes, which will directly help with organic traffic generation in the long run.
At the end of the day, valuable content is the key to a successful SEO campaign.
I hope this guide will be of help! Good luck, and make sure you subscribe to my blog for more Link Building tutorials.
Cheers!
Julian
FAQ
How Do Backlinks in Reddit Work?
Reddit has a lot of different subreddits with relevant communities.
These communities will often link to external content that they find interesting, useful, or engaging.
You can take advantage of these links for your own SEO strategy by finding relevant subreddits in your niche and following the steps mentioned in this article.
That said, gaining a from Reddit isn't as easy as finding a subreddit and posting a link.
You'll need to become an active member of the community first. This is how you should be building relationships with your target audience anyway.
Are Reddit backlinks NoFollow?
Yes, Reddit's links are nofollow.
This is a piece of code: rel="nofollow" that basically says don't pass any link juice or authority from Reddit's website to yours.
The NoFollow tags on Reddit indicate that the link will not influence the website's ranking in Google's eyes.
That said, this doesn't mean you shouldn't use Reddit as a platform to build relationships and gain new followers for your brand.
It's still an excellent platform for building an audience.