In this article, I will be demonstrating exactly how to set up Content Silos for SEO and showing you why Content Silos are a powerful way to increase your website's search engine ranking.
What is SEO Content Silos?
Content silo structuring describes a form of technical SEO that helps you organize your material based on relevant content.
After doing keyword research for your particular niche, you will have several layers of material for your particular topic.
A content silo allows you to create an interconnected network of pages all focused on the same subject matter!
Why you need Content Silos?
The main advantage of Content Siloing for SEO purposes is that it increases website relevance.
Making it easier for search engines to index your content because they can more easily find related topics, and so can your visitors.
Content silo structuring is also a key factor in keeping readers on site – by following links from one page about the subject matter to another, you are ensuring that website users will see all of the content you have to offer.
If Content Siloing is so great, why don't more people do it?
It's a relatively new SEO strategy and, as such, many bloggers and webmasters are still unaware of its power.
Content Siloing takes time and effort to execute properly, but it is a powerful technique that can help you make your blog posts rank higher in search engine results pages.
Let's get started.
How to set up a Content Silo for your website?
The most effective method to structure your website is by using "Vertical" Content Silo structuring.
This structuring style divides your content into topics that are related to one another – with the main Content Silo being at the top of your content structure.
Here is an example of how a Content Silo might be structured based on the topic of cats in a cats review website.
Step 1: Keyword Research: "Best Cat" Keyword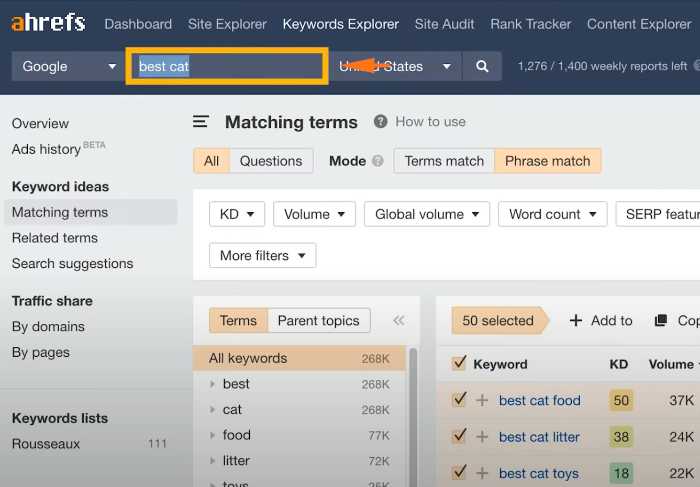 You can find out how to do keyword research by clicking on this link.
Step 2: Setting up the Content Silo based on Sub Topics
First, identify the different sub-topics within your niche. In this case, we've identified "Food" and "Litter"
Here's how we broke it down in the image below:
What does this look like in practice?
To set up a Content Silo on your website, you would create several pages to represent each specific category or sub-topic.
Each page will have a separate topic and include an introduction to other related categories to encourage readers to click through links with similar content!
A Content Silo should link back from one page/category to another so that your site visitors can explore what else you have available for them without ever leaving your website or having to search Google themselves.
Rules of thumb when setting up Content Silos for SEO purposes:
Make sure all of your content on those related but different subjects are only accessible from within their respective sections!
Have a look at this example below from the website Floppy Cats:
How to optimize your website URL structure?
After you're done with optimizing your website content silo, you'll need to optimize your URLs for SEO.
This is important because URLs are the roadmaps that search engine crawlers use to index your website.
Here are some important things to keep in mind when it comes to URL structuring:
Ensure URL Structure is Meaningful and Relevant. For example, don't use numbers or symbols that aren't relevant, like 123456abcd! Instead, structure your content so that it makes sense based on which category the item falls under.
To make Google happy with Content Silo structuring, it is a good idea to keep all related content together in one folder on your server.
You might want to include subdivision folders within each Content Silo if there are any subtopics or subsections therein!
Here's how we would optimize our Cats Review website's URLs based on Content Siloing principles:
– Content Silo name (Primary Category) ie. Cats
– Content Sub Topic Name, which is usually a keyword related to the content silo's primary category. (ie. "Cat Food", or "Cat Litter")
– URL structure: yourwebsite.com/Primary category/subcategory
For example, if we took our Cats Content Siloing approach from above… the output would then look like something like:
examplecatreviewwebsite.com/cats/best-cat-food
examplecatreviewwebsite.com/cats/best-cat-litter
Basically, it's all about dividing these subjects into different categories and subtopics
With the main Content Silo being at the top of your site's hierarchy!
Conclusion
We've found this Content Siloing method to work amazingly well in terms of SEO!
And it's also a great way for your readers to explore all you have available without having to leave your site and search Google themselves!
That's why we recommend using content Siloing as an effective strategy when structuring content for SEO purposes, especially if you're running a website with multiple pages and topics related to one another.
Hope these tips were helpful!