In this blog, you'll learn a super simple and easy keyword research template for SEO.
If you don't have the right process, it's very difficult to find keywords that actually rank.
Maybe you struggle with:
Outranking your competition
Finding relevant keywords (KWs)
Researching keywords that you can realistically rank for
If so, this blog WILL help you…
In fact, it's exactly how I find keywords for my own affiliate websites.
Let's get going…
---
Step 1: Use Ahrefs.com
Want the video version of this keyword research template? Then please watch it below!
First off, sign up to Ahrefs.com.
This tool will give you:
Keyword search volumes
Competition/KW difficulty
Clicks per keyword
(They have a 7 day trial for $1 if you're on a budget.)
So let's jump into it…
Useful Resource: 5 Easy Tips To Rapidly Improve Your Keyword Research (FAST!)
---
Step 2: Filter And Identify Relevant Keywords
Go to the "keywords explorer":
Now type in your niche in the box > Click the search button
For example, if you're in the gardening niche:
You'd type in 'gardening' > Then hit the search button
Choose which country you're based in e.g. United States:
This will give you localized results.
You'll also see a keyword difficulty (KD) rating.
This estimates how hard (or easy) it is to rank for a keyword.
So instead of guessing, you can actually find the easiest keywords to rank for.
You'll then find a breakdown of:
Search volume
Clicks
The cost per click (estimates based on PPC rates)
How competitive the KW is
The global search volume by country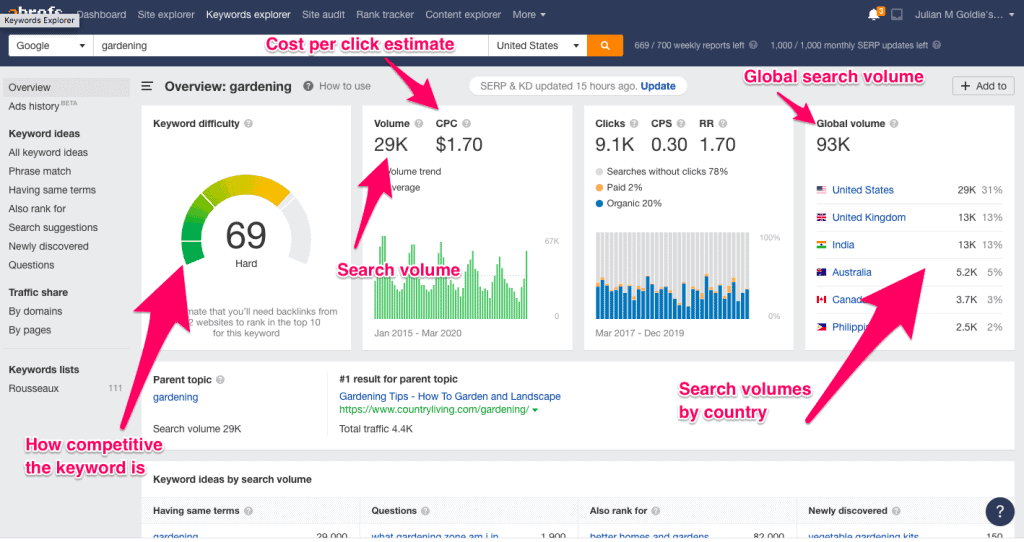 Now let's say you're in the gardening niche:
Just trying to rank for the KW 'gardening' is going to be extremely difficult.
The KD is just too high.
But what you can do is find keyword data that branches off from gardening:
(So relevant KWs that are easier to rank for.)
To do that, click on 'Phrase Match'.
This will generate a long list of similar keywords.
All of these words will contain the word 'gardening':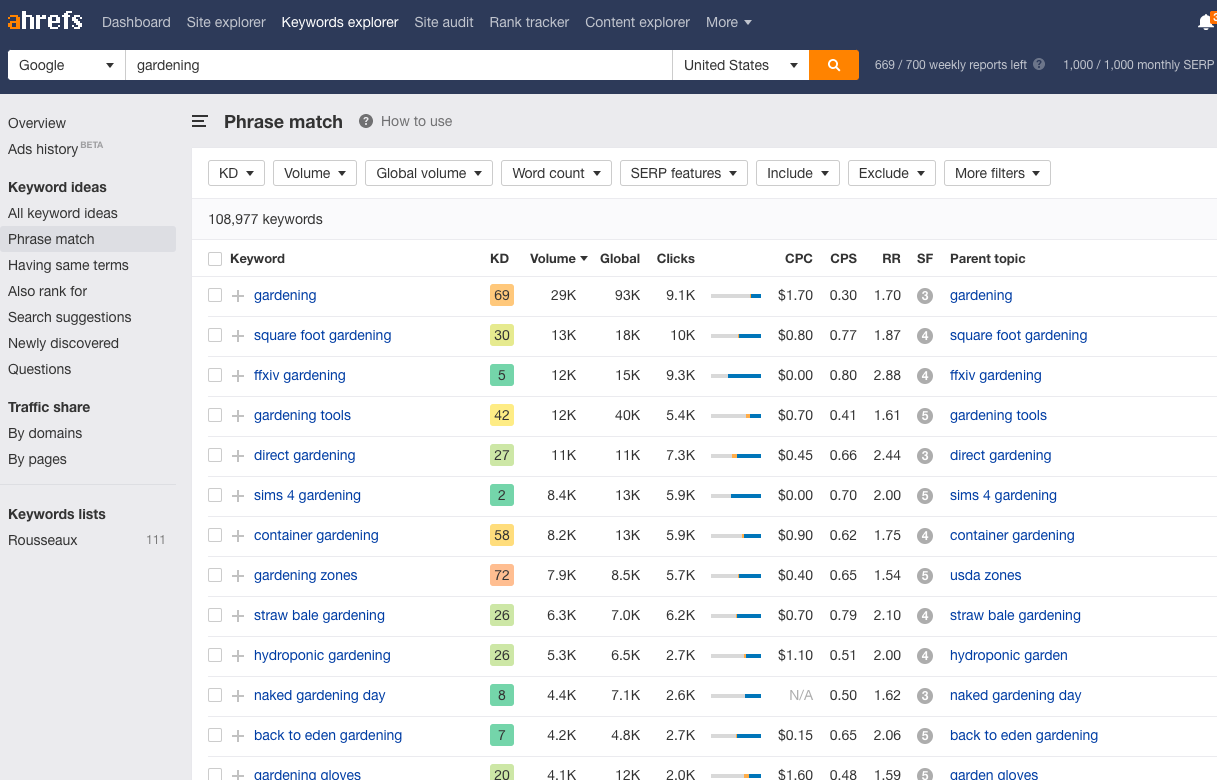 With keywords, pick your battles carefully:
So find the keywords that you can actually rank for.
To do this:
Filter down the keywords between KD 0-10
Select '

0.4′ or higher click through rates
Like this:
---
Step 3: Filter The Search Volume
So how do we filter down this list even more?
Filter the search volume so that the minimum number is 100+ monthly searches.
Why?
Well, you don't want to invest your time into content that no-one's searching for!
So click 'Volume' > Min = 100 > Click 'Apply'
This will filter the number of keywords down.
NOTE: Not all of these keywords are relevant to your niche.
So manually cherry pick the keywords that look relevant: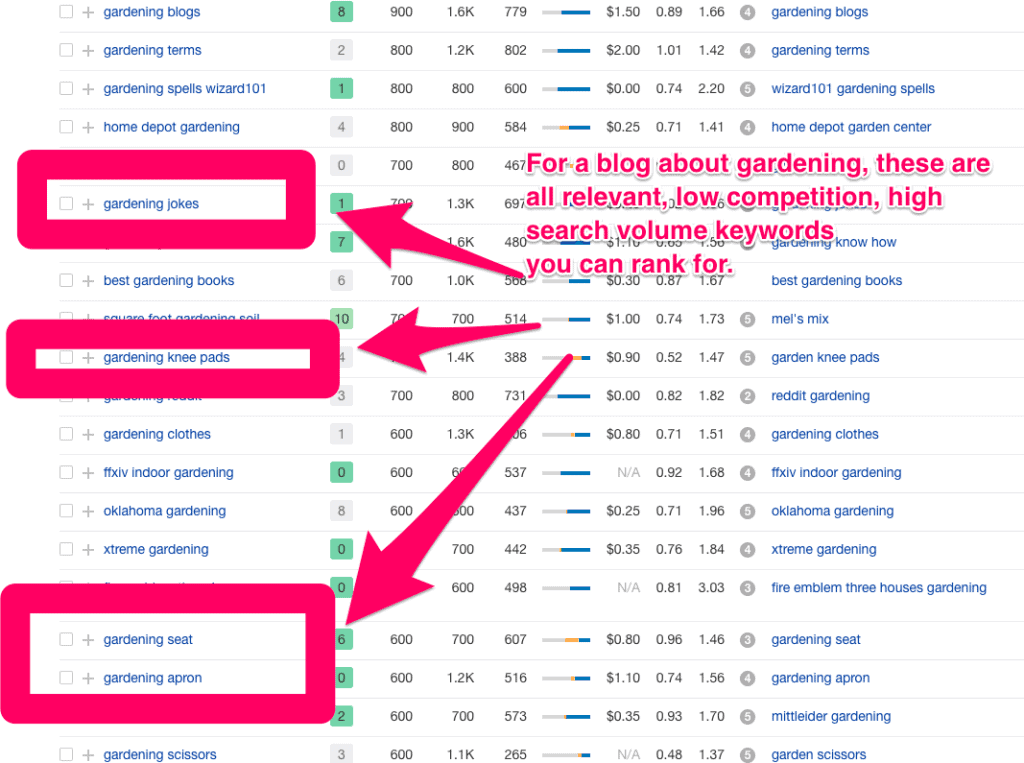 But how can you find keywords that are…?
High business value
Indicate someone is trying to buy a product
Could make money for your website
Click 'Include' > Type 'best':
NOTE: The more you filter your results, the less KW opportunities you'll find.
With this keyword research template, you'll find money making keywords that lead to more sales.
Now you can rinse and repeat this process, whilst building a list of highly relevant keywords you can easily rank for.