Let's talk about the top 7 easiest link building strategies to try right now. In fact, these are the same techniques that I use to get thousands of backlinks every year for my agency's clients and my own affiliate websites.
If you own a website, the best way to get free traffic is by ranking on Google.
And among all the SEO tactics like on-page, technical and also getting on your knees and praying to the gods of Google, you've probably heard a TON about link building.
And rightly so! Backlinks can put your site on the first page of search results fast. In fact, if we look at the 80/20 of SEO – link building is the one thing that can make all the difference to your website's rankings.
If you follow the same strategies I'm about to show you, you can achieve the same results.
But here's the problem:
How do you build backlinks?
Certainly, this is easy to understand but HARD to implement…
You could send thousands of outreach emails. Do a few backhanders for paid links. Chase down every single publication that links to your competitors. Or just spam a million forums…But if you don't have the right strategy, none of this works.
In fact, many business owners now, know that link building is worthwhile, yet they never do anything about it because of the limitless methods. It's like going to a fancy restaurant and having to choose 1 dish from a long menu.
So for today, I'm going to be that waiter who points out which meals on the menu are actually good.
Aside from showing you 7 carefully selected whitehat link building strategies, I'll also give you the step-by-step method for implementing every single one.
And the best part is, you don't have to try them all. Consistently working on a few is enough to get you seeing results.
To bring everyone up to speed, backlinks are links to your website. Google views them as votes that vouch for your content is good. Thus, a website with a lot of links pointing to it tends to rank highly on Google.
Moreso, quality is key here: One quality backlink is more worthwhile than a hundred low-quality ones. And, collecting spammy links will get you penalized by Google. So, tread carefully here.
Let's go…
7 Easy Link Building Strategies
1. Use your competitors' backlinks
Chances are if a website links to your competitor, they'll link to you too.
Thus, you can swipe a list of your competitor's backlinks in about 2 minutes.
It will make you keep an eye out for everywhere your competitors get featured.
To do this, you can use Ahrefs's Backlink Checker in 3 simple steps:
1. Make a list of all the publications where your competition is being featured.
2. Filter out the crap you don't want a link from.
3. Start reaching out to the websites you've shortlisted. Cold email is the best option here.
2. Create Linkable Assets
On to the next one, which is creating linkable content.
Did you know that there are articles specially designed to generate backlinks?
Some articles attract high-quality links simply because their content is pure fire.
Often known as link magnets, or linkable assets, these bad boys can attract backlinks on a HUGE scale naturally.
Examples:
original research articles
thought leadership pieces
Imagine compiling a list of marketing trends in your industry or interviewing a recognized expert. Who wouldn't want to share or link to that?
For instance, this linkable asset we produced about the best time to buy cryptocurrency, attracts dozens of free backlinks –
And the traffic for this website blew up after the article is published:
Moreover, the reason why so many website owners shy away from creating linkable assets is that they take a lot of time to produce. Sometimes, it takes weeks to spend just in research.
3. Exchange backlinks
Have you ever noticed your favorite publications or influencers that are featured in each other's work?
Quite often, this is based on some sort of existing relationship.
And it's fairly common to find web publications frequently linking to each other. In most niches, you'll find the top websites linking out to each other.
It's like when Dr. Strange appeared in Spiderman.
This sort of back and forth happens between marketers. You reach out to a website in your niche and ask them to include a link to your webpage and in exchange, you'll include a backlink to theirs.
This link building strategy works best if you either have a significant number of monthly visitors or an existing relationship with the other website.
4. Video Link Building
If you create videos, you should be reaching out to other sites promoting your videos. And get them embedded in their content.
Why? It's because it's an easy way to get links.
Of course, you might reach a few more people with your content, too.
For example, like this link we got in our agency – juliangoldie.com: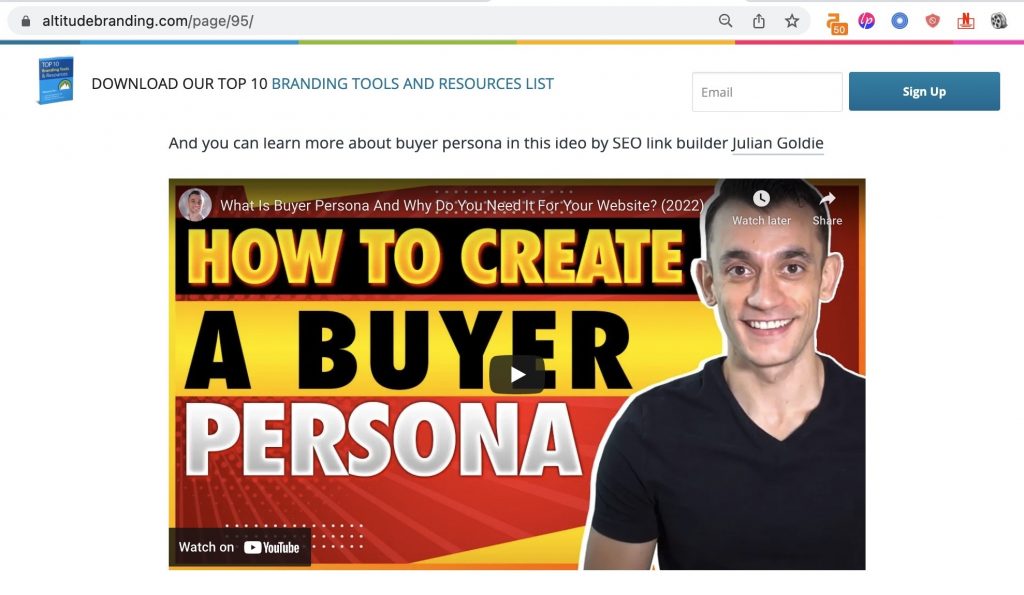 How do we do it?
Formula for Video Link Building:
First, reach out to relevant websites that have content on the same topic as your videos.
Then, ask them to embed your content.
Finally, once your content is embedded, reach back out to them 1 month later and ask if they can add a credit underneath that links to your website.
Bear in mind. Websites normally charge hundreds of dollars for a DR 50 backlink like this. We got it for free – and our video embedded for free also – just by creating something they could share.
But, word of warning: None of this works unless your content is good. If you want other sites to link to you, level up your content.
5. Podcast outreach
Here's an easy one – reach out to podcast influencers in your niche. Chances are if you know your niche, you know the biggest influencers in your industry too.
Like this podcast where I was featured recently: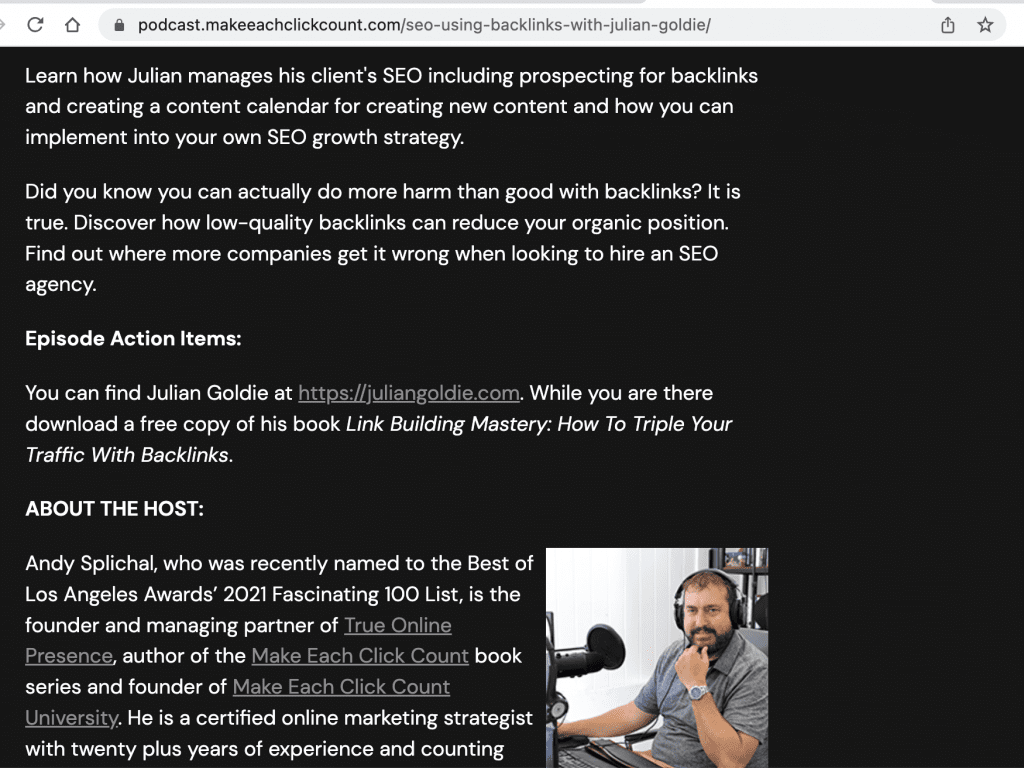 It's good PR. You'll often get a link back to your site in the show notes. And absolutely, it's something you can show your Mum when she asks what you do online all day.
Plus, podcasts are great for positioning your expertise.
6. Guest Posting
75% of SEO strategists use guest posting to build backlinks and grow their authority.
In other words, guest posting is still alive and kicking. Though personally, I'm not a HUGE fan unless you're guest posting for a big publication.
Why? It's because you have to write the content every time you want a link, sometimes you have to go back and forth with the website on edits. It's time-consuming, you have to wait for your blog to be posted (which can take months) and sometimes your links will get removed or not followed when your blog is finally posted.
However – if it's for one of the biggest publications in your industry – like this blog I wrote for Lemlist.com – https://blog.lemlist.com/lessons-from-80k-backlinks/ – then all of that is worth it but ONLY for the top 1%, creme de la creme websites.
It's because that'll boost your authority, position your expertise and help you gain access to a new audience.
And the easiest way to land guest posts like this is with the sniper approach – I mention exactly how to do it in my book link building mastery but basically just be VERY VERY personalized in your approach. Facebook is a good platform for reaching out to CEOs with a personal message, as well.
Do you want to learn more about finding guest posting opportunities? Here's a video I did on guest blogging and how to build loads of backlinks from it.
7. Find Unlinked Brand Mentions
This method doesn't require many steps.
All you have to do is keep an eye out for any mentions of your brand online. Use an SEO tool like Ahrefs Content Explorer to automate the process.
Look at every mention and find ones that are not linked to your website. You can check their Domain Authority to see whether it's worth your time.
Then, send the writer a short note asking for a proper link to your website.
Pretty easy, right?
Conclusion
We're done here. You've now got the 7 easiest link building strategies I have for you.
And to get the most success, don't try them all at once. That would be link building overload.
Just hand pick 1-2 strategies that resonate with you the most and start getting to work.
In just four months, a real estate client site of ours doubled its traffic and increased its Domain Rating by 500%. We acquired just 7 backlinks every month for that client. That's all it takes.
If you're not happy about your website's current ranking and you have big dreams for your business, reach out to us.
Book a completely free consultation call at juliangoldie.com.
Finally, do you like to see something cool? I built 80,000 backlinks using a little-known content hack. Want in on the secret? See the video below.