Want to know how to build high-quality and authoritative backlinks with HARO?
If you want to drive more links to your site and build your website's authority, this is one of the best websites to use right now.
Plus it's FREE!
So today, I'll teach you exactly how I build DR80+ backlinks to my website with HARO.
And I'll break it down into 3 easy steps.
Want high quality backlinks that increase your rankings? Check out my HARO link building service.
---
What Is HARO?
Not familiar with HARO yet?
This is a website where journalists post PR opportunities for you to pitch.
Journalists on HARO are usually looking for:
…From website owners just like you.
How does HARO work for link building?
Well, a journalist might go on there and say:
"Hey, I'm looking for expert opinions on the best way to meditate in the morning."
Then, you could reply to that query.
If your opinion gets featured in their article, you could receive a backlink to your site.
Many high authority websites use Help A Reporter Out, including Fox News and Mashable.
So HARO is a powerful way to land high quality backlinks.
See Also: 5 Tips To Make Your HARO Pitch Irresistible
---
Landing PR With HARO
Why do journalists use HARO?
Mainly because they want social proof for their articles.
The more research their article has, the more credible it looks.
So HARO link building is win-win:
The journalists get your opinion/free research
You get a backlink
What I like about HARO is that these are backlinks you won't find anywhere else.
Most of the backlinks from HARO can't be landed with outreach.
So if you're looking for exclusive backlinks, HARO is one of the best platforms.
See Also: 5 Advanced Link Building Tips for HARO (Help A Reporter Out)
---
3 Step Blueprint For Building Backlinks
Step 1: Create Your HARO Account
If you're not signed up already, create an account here.
It's easy to do and completely free as well.
Once you're signed up, you'll see a preferences section in your account.
Select which industries/opportunities you want to receive.
Then these queries will be sent to your email inbox.
You'll receive HARO updates every day.
There's a lot of choice including:
General sites
Travel opportunities
Lifestyle and fitness
Business and finance
But before you get started:
If you want to get featured, you have to understand the topic you're talking about.
So pick out the industries where you're knowledgeable.
Also, filter your backlinks:
For link building purposes, make sure that the links you land are from relevant sites.
So, only go for the websites that you want to be featured on.
Relevant, industry related backlinks are powerful for boosting your rankings with SEO.
Want high quality backlinks that increase your rankings? Check out my HARO link building service.
---
Step 2: Filter And Pitch Relevant HARO Opportunities
Here's a big problem with HARO:
Most queries won't be relevant to your site, especially if you're in an unusual niche.
I recommend creating a filter for your inbox.
This way, you only get the HARO pitches that are related to your site.
How to get started?
Type in HARO and add the keyword you're going for.
For example:
Let's say you're targeting meditation.
Type: "HARO meditation" like the screenshot above.
This will filter down all the emails that are relevant to for your site.
See Also: 5 Huge Mistakes to Avoid on HARO At All Costs
---
What Do HARO Updates Look Like?
Here's an example:
You'll receive an email breakdown of all the potential featured opportunities.
Then you can pitch each one for a backlink.
Sometimes you'll see over 50 HARO queries (that's a lot of opportunities).
Does HARO Link Building Work For Any Niche?
Whatever niche you're in, there's going to be potential link building opportunities.
But they might not come every single day.
It could be a few times a week.
Just keep checking!
Deadlines & Anonymous Sources
Sometimes the media outlet won't reveal who they are.
These will be marked as "anonymous" in the HARO email update.

You'll also see a deadline.
This is when you need to reply to the HARO response to get a link to your site.
If you submit beyond the deadline, you won't hear back from that reporter.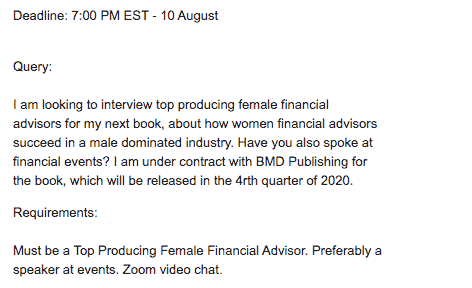 Before you start firing off pitches, check the requirements of each opportunity.
For example:
If the media outlet is looking for fashion designers, they might prefer you to have experience.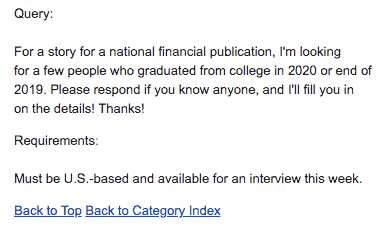 Always make sure that you check the requirements first.
Why?
Because if you can't meet them, you won't be featured.
You have to be as efficient as possible when pitching for HARO.
I'd also recommend looking at the media outlet's profile on Ahrefs:
Are they a high-authority site that you actually want a backlink from?
Do they have a high DR?
How much organic traffic are they getting?
Is it worth your time pitching for that opportunity?
---
How To Save Time And Get More HARO Backlinks
1. Be precise
When replying to HARO queries, send a maximum of 2 to 3 paragraphs.

Journalists get many responses, so you don't need to write a full essay.
Keep your response short and concise to save the journalist time.

Overall, get straight to the point – no fluff!
---
2. Present Yourself As Professional And Credible
When you're replying to HARO responses, first impressions count.
If there's loads of grammar or spelling mistakes in your response, then you'll blow your chance.
So double-check your response before you send it.
---
3. Be Unique And Write Opinions That Stand Out
Ensure the response you send is really unique.
Why?
Because that's what's going to make sure you stand out.
The more unique you are, the more HARO backlinks you'll land.
Chances are, most people will just Google their response before sending it.
That's the lazy method:
And most answers on HARO are going to look the same.
So, If you write a unique response, you'll stand out amongst the competition.
---
Step 3: Track Your Responses And Measure Your Conversion Rates
Track all your responses in a spreadsheet.
This way you can check:
Conversion rates
The successful links
Which media outlets posted your HARO response
How long does it take to get a HARO link back?
Depends!
It could be a month, a week, or even six months.
Why?
If you're pitching high-authority websites, they have a long editorial waiting list.
---
HARO Link Building Case Study
So how easy is it to land HARO backlinks?
Here's a pitch I sent into Thrive Global on October the 28th.
It's a DR 84 link (far higher than most links you'll get from outreach):
This response was published a month later, on November 20th.
And you can see a breakdown of the link below:
It's high DR (at 84)
Gets over 317K organic traffic per month
The actual response only took about 1 minute to write!
And now you just how easy it is to land high-quality links with HARO!
---
To Sum It Up
Now you know exactly how to build high-quality, authoritative backlinks to your site.
It's easy and quick to build HARO backlinks.
And almost anyone can do it!
Just rinse and repeat this process to build as many high-quality backlinks as you want.
Want high quality backlinks that increase your rankings? Check out my HARO link building service.