Wondering how to outsource content writing?
…Maybe you don't like writing.
…You don't have time.
…Or you're just procrastinating getting more blogs published.
Today I'll show my tried and tested blueprint for outsourcing content writing.
This tutorial will save you hundreds of hours and help you source cheap content.
You'll learn how to:
Save hundreds of hours by outsourcing blog and SEO content
Boost your organic rankings
Drive more traffic with content – without writing a single word!
Keep reading to learn more…
---
How To Outsource Content Writing
So how does this process work?
Here's the quick steps for outsourcing content writing:
Hire and find a writer
Brief them on how you want the article written
Create a blog outline (takes about 2 mins!)
Outsource the whole process once it is set up
Once the process is setup, this is basically passive:
And it'll generate high-quality SEO content for your website – on autopilot.
I'll cover each of these in more detail below…
Watch the video below to learn more!
---
Step 1: Hire And Find A Writer
You can easily do this with UpWork.
Create a client account on UpWork.com > Then hit "Post A Job":
So now, we're going to create an advertisement and find writers for your team.
This is so damn easy:
If you follow the steps below, you'll find high-quality writers for a very affordable price.
And you'll learn how to filter out the good writers from the bad ones.
---
Create A New Job Post
Click on 'Create a new job post'.
In the title, just put a simple headline like "Are you a blog writer?".
Then categorize the advert as content writing:
After this, click on 'Next' and in this section, write your job advert.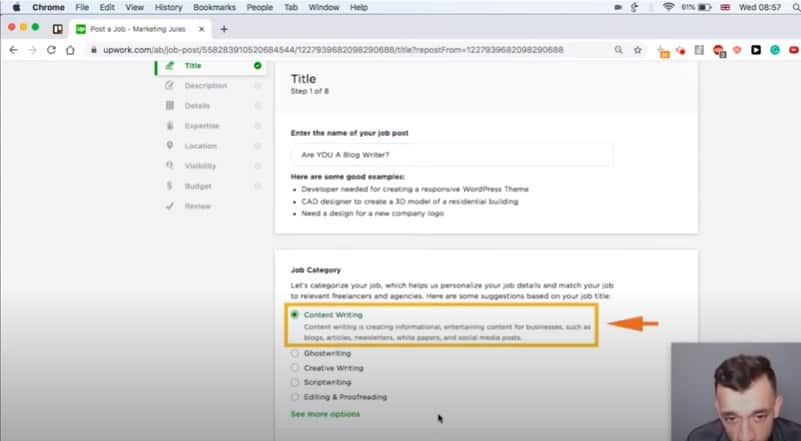 Here's the template job advert I use:
Howdy, I'd like you to write articles for my blog about NICHE…

Here's the deal:

– You'll get weekly projects & regular work.
– I want to hire ASAP.
– This is all about writing quality content.
– If we're a good fit, I'll refer you to my friends too.
– You need to be able to follow my article brief instructions
– If you can follow instructions, please include ROCK at the start of your application
– I'll give you a bonus option too
– I'm easy going and looking for a long term writer

I will pay $50 per 2,000 words 🙂 And I can send a lot of writing jobs to you, this isn't just a one time job.

Let's talk!
Julian
It's simple and straight-to-the-point.
Customise the above advert to your budget/niche etc.
You'll also see a list of bullet-points:
This ensures the writer meets your expectations and why they should work for you.
You'll notice I've included "If you can follow instructions, add ROCK to your proposal".
Why?
On Upwork, writers often blast out proposals without even looking at the job.
We want to make sure they've read the job description so that:
We know they can follow instructions
That they take care in their work
I've also included some of extra benefits too – see screenshot below:
This ensures the job is attractive to them:
e.g. They'll get weekly projects/regular work and if they're are a good fit, I can land them more work with my friends.
Regarding payments:
Outsourcing content writing is cheap.
I stick to $50 for 2,000 words – that's the rate I've found works for my SEO sites.
On the next page, choose "ongoing project":
Because you are going to be hiring content writers regularly.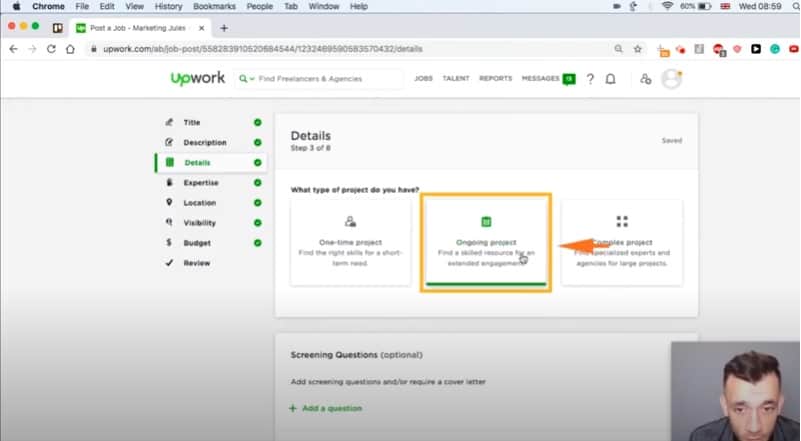 I don't usually include any screening questions.
Why?
Simply because the bullet-point about adding ROCK at the start of the application is enough to screen people out.
And when you start interviewing writers, you'll ask them a few questions then too.
Also, beware of having too many screening questions:
It's going to put writers off, because this isn't a particularly well-paid job.
So reduce the number of screening questions you include.
After that, click next and head to the location section…
On the location section, I usually select Worldwide here:
I'd recommend hiring writers from countries where English is their first language.
You can get much cheaper rates from writers in India or Pakistan.
However, I also tend to find the quality is not quite the same.
If you want high-quality content, then you need fluent writers.
So most of my writers come from the UK and US.
---
Pay A Fixed Price
Finally, choose a fixed price budget:
I never pay writers hourly as I want to pay based on productivity, not hours worked.
e.g. They could work 10 hours but only get 3 paragraphs written.
So pay based on output, not on hours worked.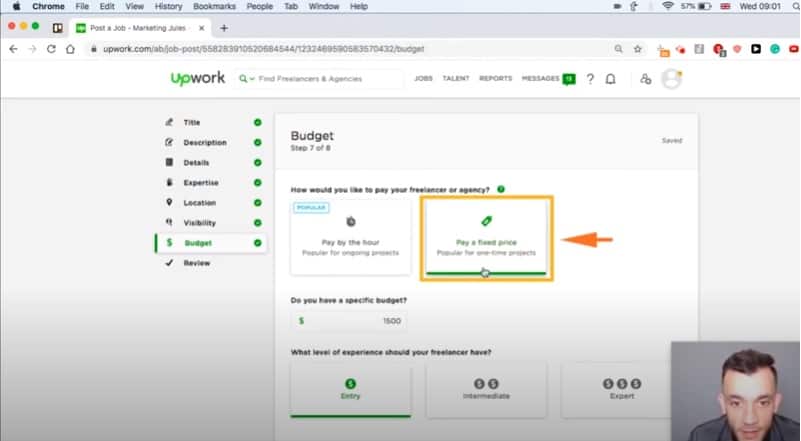 In the budget section, I put a very high budget.
Even though I'm paying $50 for 2,000 words, the higher your budget is, the more it's going to stand out on UpWork.
Overall, that means you'll get more writers applying for your job.
For experience, click 'entry-level'.
You don't need to the best writer in the world.
Your writers just need to be able to follow your instructions and write at a decent level.
---
Post Your Job
If you're done, just click 'Post Job Now'.
Once you've posted the job on Upwork, wait 24 hours.
That will give writers enough time to apply for your job advert.
Once you're done, you'll see a job like this on your UpWork dashboard.
---
Step 2: Hire A Qualified Writer & Brief Them
Click on "Review Proposals".
Now, you want to make sure that the writers are qualified and ready to start writing.
Here's an example list.
On UpWork, hire writers with a high job success score.
Anything above 80% is decent.
If you click on their profile, you can scroll through and see their reviews so far.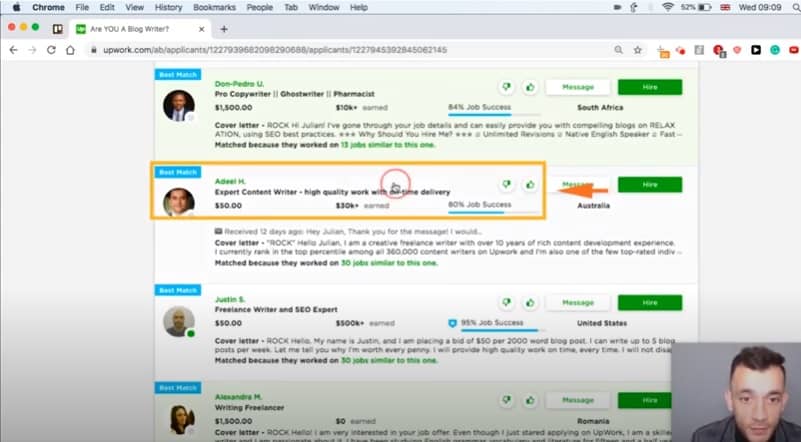 Make sure that the writer included ROCK at the start of their application.
(Like I mentioned earlier.)
Once you've found a writer you like, drop them a message.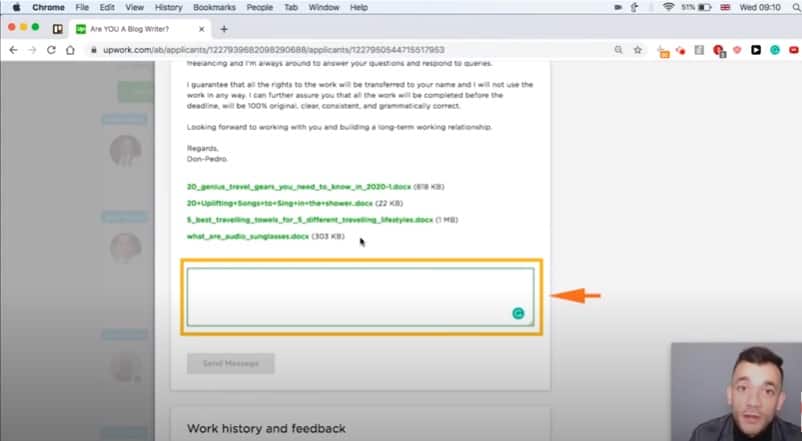 Now ask the writer to write a 100-word sample on a random topic.
Why?
….To gauge the quality of their work (most writers are very open to this).
And 100 words only takes about 10 minutes to write.
But it gives you an idea of the quality of their work.
Then brief your writer on exactly how you want the article to be written.
Think about:
Writing style
Format
Including references
How to avoid plagiarism
Deadlines
How To Filter Out The High Quality Writers
Here's a few tips for filtering writers from UpWork:
If they've earned $0, I usually won't hire them
A high job success score is crucial – aim for 80% or higher
Check which country they're from
Read their client reviews so far
Now go through your whole list of applications, following the steps above.
Normally you'll find 10-15 qualified writers that you can start talking to.
---
Step 3: Create An Article Outline
Next up, you need to create an outline for your writer to stick to.
This should include:
How many words to write
How long it should be
Keywords to include
That's why I use Surfer SEO for this.
It's not a free tool, but it'll save you many hours of frustration.
From here, you can create an article brief in about 2 minutes.
Rather than you doing all the research yourself (or hiring your team to do it):
Surfer SEO automates the whole process.
The article outline will look something like this: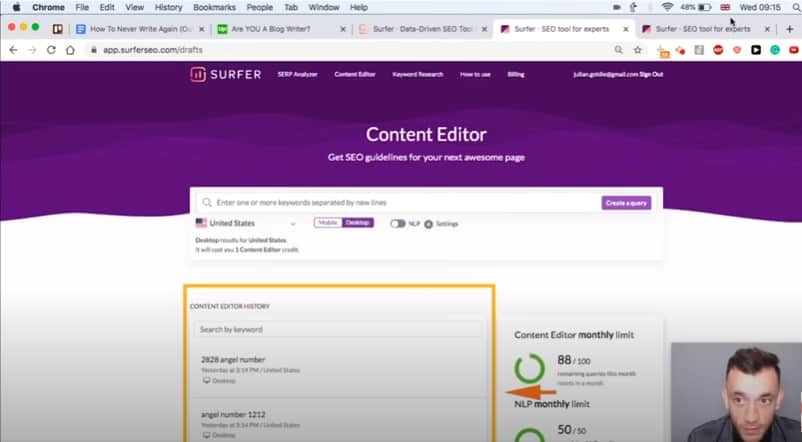 How does Surfer SEO work for content writing?
They look at all the top-ranking websites on the first page of Google.
Then they figure out:
What's working for your competitors
Recommended word count
How many headers you should include
How many paragraphs, images, what sort of keywords, and the topics to add too.
This is all data-driven – based on who's already ranking on Google.
However, use your common sense:
Surfer SEO is just SaaS software – it's not perfect.
And sometimes you'll need to make changes.
How?
Click in their 'Customize' section – and you'll see something like this:
Here you can make any changes you need to – exclude certain websites etc.
Once you're done, click 'Copy Shareable Link' link here: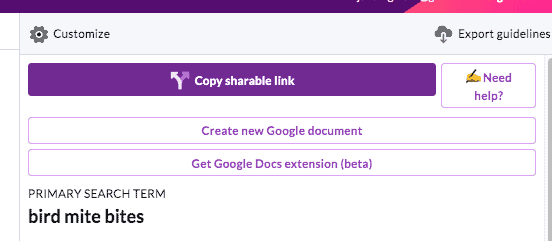 With that link, your writer can go in and write your content.
As your content is written, Surfer SEO updates in real-time so that you can see:
What your writer's doing
What they've written so far
The overall finished product
The content editor almost works like Google Drive:
You and your team can edit it at the same time, and it's also very data-driven.
Surfer SEO gives you loads of metrics that you probably wouldn't have the time to check if you were doing this manually.
---
Hiring Your Writer
So now you have your writer – and your article outline too!
Next, you can hit the hire button – see screenshot above.
Send them:
The Surfer SEO outline that you want them to fill in
The job offer
Any details you want to include
You can also add project milestones:
e.g. Writing the first 5 articles.
Then setup the due date and amount you'll pay.
Bear in mind:
The writer doesn't get the money until they finish the content.
Your funds will stay in escrow until you have the final product.
---
Outsourcing The Whole Process
Outsourcing your content is pretty much as simple as that.
Now you can easily outsource this whole process to one of your team members:
Personally I use a virtual assistant.
And they manage the whole process for me.
My VA will:
Hire the writer
Outsource content to my writers
Create the Surfer SEO outline
Follow my keyword strategy
I give my virtual assistant a spreadsheet they can fill in, in terms of:
Articles published
Word count
Price per article
This becomes a passive way of outsourcing content writing.
Basically, once it's setup – I don't need to touch it again!
---
Final Thoughts
If you're not sure how to outsource content writing, here's an idea:
You could give your team this guide as an SOP.
Or just follow the instructions yourself.
Now obviously, this is a cycle:
So you may need to tweak and optimize the process on an ongoing basis.