Building high authority backlinks is critical if you want to achieve high rankings.
However, everyone seems to have their own preferred strategy for building high authority links, and you might not know which one is right for you.
Well, one SEO strategy that works for nearly everyone is something known as 'HARO link building.'
Using this approach, you can build high authority backlinks on extremely high DR websites, without having to spend a penny.
This method is also considered to be very 'whitehat,' and so you likely won't incur a penalty if you use this tactic. 
Read on, and you'll discover what HARO is and how it can help you build high authority backlinks on some of the biggest websites in the world.
If you want to build some powerful links, you'll soon learn how HARO can help you achieve your goals.
Let's begin!
What Is HARO?
HARO stands for 'help a reporter out,' and it is a website that reporters use whenever they need to find sources for an article.
For example, if someone is writing about gardening, they might go to HARO to find a gardening expert.
If you help these reporters, they will often include a link to your website within their article.
Because these reporters tend to work for large established brands, this method is a good way to earn authoritative links.
HARO is easy to use, as you just need to sign up for the platform, and you will then receive an email on a daily basis that contains reporter queries.
All you need to do then, is respond to the queries that are relevant to you.
In the sections below, we will explore some tips that'll help you get the best results when it comes to using HARO as a link-building tactic.
Selecting the Correct Preferences
HARO has a 'preferences' section that lets you pick the kinds of topics you want to deal with.
Now, the image above shows a HARO account that is signed up for every kind of query.
However, while this approach can produce a high volume of reporter queries, it isn't the best tactic if you want to generate relevant links.
Following this, a better approach is to just focus on preferences that are relevant to your niche.
How to Interpret Requests
Once you've signed up for HARO, and you've selected your preferences, you will then get inquiries in the format shown below:
If you click on one of these emails, you'll see reporter requests, as well as some of the requirements surrounding each of these requests.
For instance, you'll see who you need to send the request to, as well as the deadline.
Sometimes, you don't actually see the website that is associated with the request, and this is often one of the tricky things about using HARO to build links.
Now, there's a good chance you're interested in high authority links, and so if that's the case, you should perhaps only respond to requests that mention a website.
That's because you can use Ahrefs to verify the domain authority of a given site. Based on the result you get, you can then determine if it is worth going through the effort of crafting a response.
Finding Relevant Requests
HARO will send you lots of reporter requests, and in some cases, you may find that you have to sift through hundreds of queries each day.
To make things easier, you should use special search strings within Gmail, as this will help you identify the responses that are a good fit for you.
This is the search string format you will want to use – "HARO" + "keyword".
So, suppose we're in the insurance niche, and we want to find HARO inquiries associated with this niche.
All we need to do is search "HARO" + "insurance".
Upon doing this, we can see the HARO inquiries that are relevant to this niche.
If we click on one of these inquiries, you'll see that Gmail has already highlighted the inquiries we're interested in.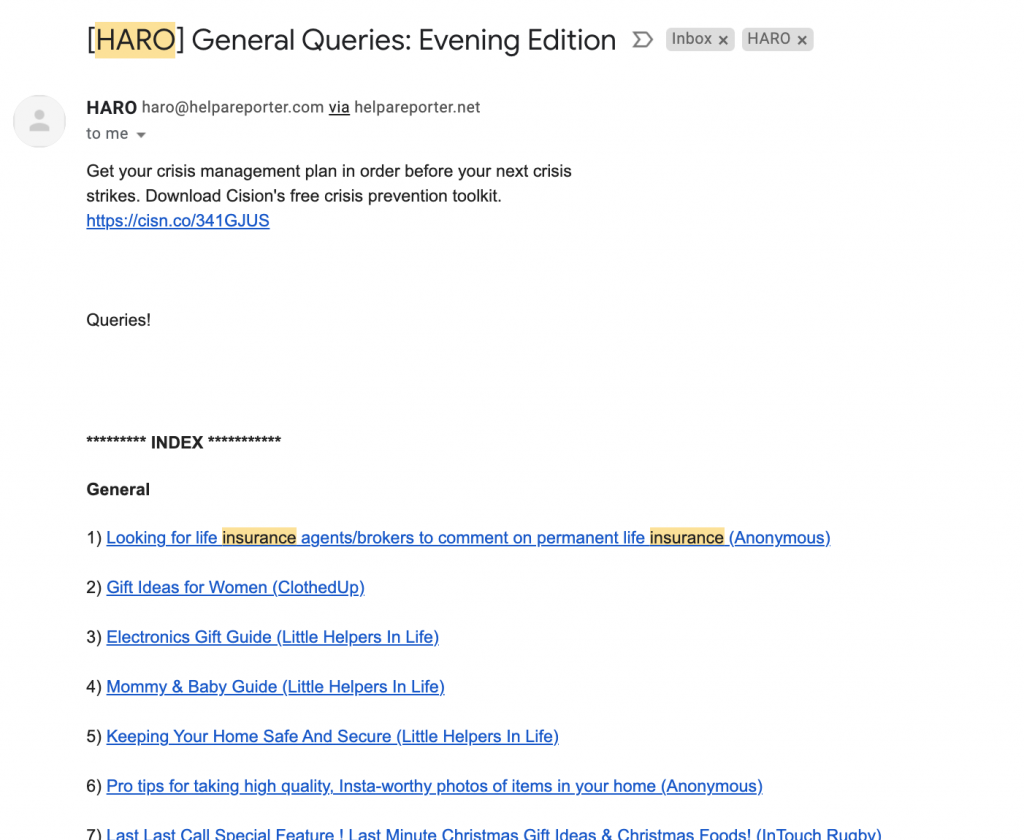 If you do this every day, it shouldn't be too hard to identify the queries that'll help you generate relevant backlinks.
Sending Worthy Responses
Reporters receive lots of responses for every query that they put out. Following this, you need to make sure your responses stand out, or else you will not succeed with this method.
At the most basic level, you need to make sure your response is no longer than 200 words, and you should always check it for errors.
After all, if your response has errors, a reporter might pass on you because they no longer consider you to be an expert source.
Furthermore, you should make sure your response is unique and well-thought-out. A lot of people do this for SEO purposes, but most of these people just do the bare minimum.
So, people will just copy and paste something from Google, and they might not even consider the real impact/angle of the reporter's question.
If you can figure out a way to rise above this, it'll be easier for you to achieve success with this approach.
You might also want to include a link to a headshot picture, as some websites like to use this when they publish a response.
Note that you shouldn't wait for someone to request a headshot.
Most reporters want to get things done quickly, and thus if your response lacks a headshot, they'll likely just pick someone that provided one, thereby resulting in a potentially lost link.
Can You Outsource HARO Work?
You can outsource HARO work if you don't have the time to do all of this yourself.
If you're going to go down this route, you can hire someone who has some experience with HARO link building, or you can just train someone up from scratch.
If you want to find someone with HARO experience, you can go to a platform like Upwork, and search for something like 'HARO link building.'
If you want to train someone up from scratch, you can just hire a virtual assistant to help you with this task. Again, you can use the Upwork platform to find an individual like this.
Before you let them loose, you should record a video that explains how HARO works, and how they should approach this task.
Your video should explain the kinds of topics this person should respond to, and how these responses need to be written.
This video will then help them do things the right way, and they can also refer to this video whenever they get stuck.
Generally, if you hire a virtual assistant for a task like this you will pay them by the hour. However, to incentivize them, you might also want to pay them a bonus for every link they secure.
Alternatively, you might want to give them a bonus if they send off a certain number of responses within a given time frame.
So, you could give them a bonus if they manage to send 50 responses within the space of a week.
Common HARO Mistakes
HARO can produce great results, but a lot of people tend to give up on HARO because they don't achieve much in the way of results.
This is understandable, but a lot of people fail to see results because they make some common mistakes. Therefore, if you can avoid these mistakes, you should be able to avoid poor results.
Because of this, let's take a look at some of the common mistakes people make with HARO, and how you can avoid these issues.
Being Inconsistent
Like other backlink strategies, building HARO backlinks is a bit of a numbers game, and your first response probably won't produce any results.
After all, reporters will receive dozens of responses for each request, and it can be hard to stand out.
Following this, you should try to stick with this method for at least a few months before you decide to quit.
If you find it difficult to be consistent with HARO, you might want to establish some kind of a routine.
So, you may want to dedicate 30 mins a day to creating HARO responses. If you do things this way, you will eventually establish a rhythm, and this will help you earn backlinks.
Being Impatient
Something to keep in mind here is that it can take a long time for HARO links to go live.
That's because some high authority websites tend to publish certain forms of content at a slow pace.
This can be discouraging, and you may want to quit when you find out that it takes few months for a link to go live with this method.
However, you shouldn't let this get you down. After all, these links are going to be high-value, and so they're worth the wait.
Plus, if you're consistent, you should eventually end up in a position wherein this lag doesn't matter.
After all, if you keep sending responses, you will secure links. If you stick with the process for a few months, you will eventually find that you have links going live every week or so.
Spending Too Much Time on Replies
Another big mistake people make in regards to HARO is spending too much time on replies.
Now, you might think that it is a good idea to create a long detailed response, as this will help you stand out.
However, while there is some truth to that, remember that reporters are busy people.
If you write a long-winded response, a reporter might just skip over that and find something that's easier to work with.
Following this, you need to make sure your responses are as concise as possible.
If your responses are clear and short, it will be easy for reporters to embed your response into their work. This will then increase the odds of them picking your response over someone else's.
Shying Away From Complex Requests
When it comes to HARO link building, a lot of people aren't too keen on the idea of responding to complex requests.
This is because complex requests tend to have a lot of 'asks,' and thus they can generally be more difficult to deal with.
For instance, here is an example of a HARO query that has several asks:
As you can see, this request is obviously asking a lot from the source. Thus, if you come across a request like this, you may just want to skip it and find something that is a lot simpler and easier to respond to.
Yet, you should see this extra complexity as a good thing and not a bad thing.
This is mainly because this extra level of work might deter a large number of people.
As a result, you may then face less competition when sending in a response, and thus it may be easier for you to break through and earn a link here.
Plus, if you know a lot about the topic in question, it shouldn't be too hard to craft a good response in a short amount of time.
Alternative Methods
HARO isn't the only platform that lets you build links by responding to reporter queries.
For example, 'Sourcebottle' is another platform that'll help you build links this way.
Like HARO, Sourcebottle is free to use, and if you sign up to the platform you will receive lots of reporter queries every day.
Again, like HARO, when you sign up to this platform you can select the kinds of queries you want to receive.
You can also select the countries from which you'll receive reporter queries. This is especially helpful if you want to give your links some kind of geographical relevance.
Note that when setting up your Sourcebottle account, you should choose a timezone that is closest to your actual timezone.
If you leave the default Melbourne timezone, you might receive responses during awkward times of the day, and thus you might not be able to respond to them quickly.
Once you're signed up to Sourcebottle, you should then receive a daily email like the one below:
If you click on one of these links, you'll see some details regarding the reporter query in question.
On the left-hand side, you'll see a section that describes who the response is for.
One of the main things you'll want to pay attention to here is the 'Media outlet/Publication' section.
Ideally, you will only want to respond to queries that come from a 'major' news outlet. That's because if your response is successful, it will likely end up on a high authority website.
Another interesting thing you'll notice here is that there's a section asking if the source needs to be local.
You should always check this before you send off a response. You can tell if you are local by checking the country section at the top of this sidebar.
If the query asks for a local response, and you ignore this, you will just end up wasting a lot of time and effort.
In any case, the main body of the query describes what the reporter is after.
Here, you will also find a deadline for the response, and some of the specific issues you need to address in your response.
If you scroll down to the bottom of this page, you can see a section that lets you send off a response.
As you can see, it's pretty foolproof, and you just need to type your response in the 'Comments' box.
You might also want to include a note here that asks the reporter to message you if your response is accepted. Once you click submit, your response will then be sent off to the reporter in question.
Conclusion
You should now understand how you can build quality backlinks with the help of HARO.
It's fair to say that building high-quality backlinks with HARO is not super easy, but there's no doubt that this method works.
Following this, if you're dead set on building high authority links, you should definitely give this method a go.
Now, you will probably have to send out many responses before you land your first link.
However, if you maintain a consistent approach, you will eventually figure out what does and doesn't work when it comes to building HARO backlinks.
This knowledge will then help you achieve a better hit rate going forward, thereby allowing you to earn more high-quality links with this approach.
Want us to help you with your HARO link-building campaigns? Book a call with us to see how we can help you earn amazing links!