Want to learn how to find an unlimited number of prospects for your link building outreach?
Whatever type of link building you're doing, this article will help you!
You'll find a step-by-step prospecting blueprint that you can rinse and repeat.
So let's jump in…
---
Link Building Prospecting Explained
Prospecting for link building outreach is crucial!
The more relevant link building prospects you have, the more links you'll build.
So how do you find them?
And what's the most time-efficient way to do this?
That's exactly what you'll learn below…
Want the full video guide? Check it out below.
---
Technique 1: Scrape Your Competitors
Step 1: Go To Ahrefs
The first step is to head on over to Ahrefs.
This is a website where you can scrape loads of link building prospects.
From here, you can find many sites that you can reach out to and ask for a link.
Here's how to use it for prospecting…
---
Step 2: Analyze Your Competitors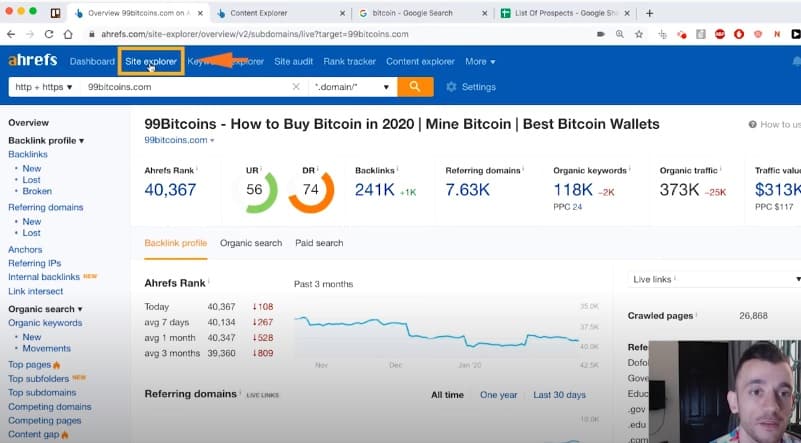 On Ahrefs, you can easily check your competitor's backlink profile.
So I recommend finding a competitor who's already built a lot of links:
The more links they have, the more prospects you can find to contact.
Now to go to pages:
Then head on over to "best by links".
In this section, you can find your competitor's content with the most links:
Now you can see who's linked to your competitors.
Let's say you have a guide about Bitcoin, and you want to scrape this competitor's website to find prospects.
All you need to do is click on a relevant topic.
For example, "who accepts Bitcoins in 2020?"
Now click on backlinks, as you can see below.
---
Step 3: Filter the list out
Next, filter this list.
There's going to be lots of duplicate links, so filter the list to "One link per domain".
Why?
Because some of these links aren't relevant to your site.
---
Step 4: Change The Language
Change the language to English.
If you're doing outreach in English, don't outreach to foreign websites.
---
Step 5: Export And Download
As you can see below, we now have 532 prospects in total.
These are all websites that you can reach out to and ask for a link.
So click "export" and download the CSV.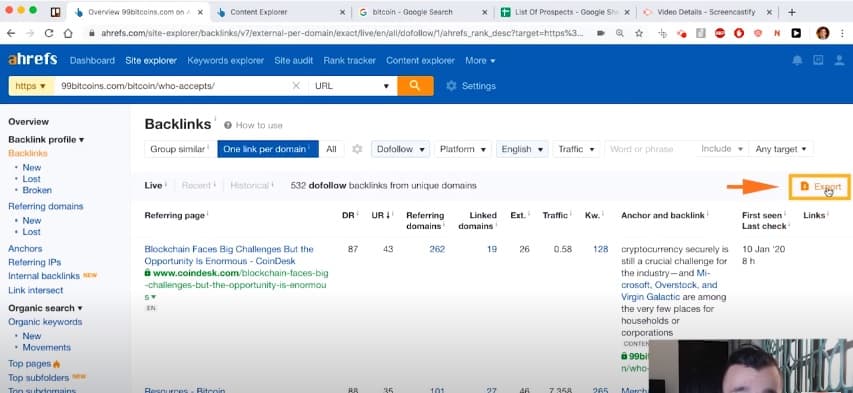 It's as simple as that!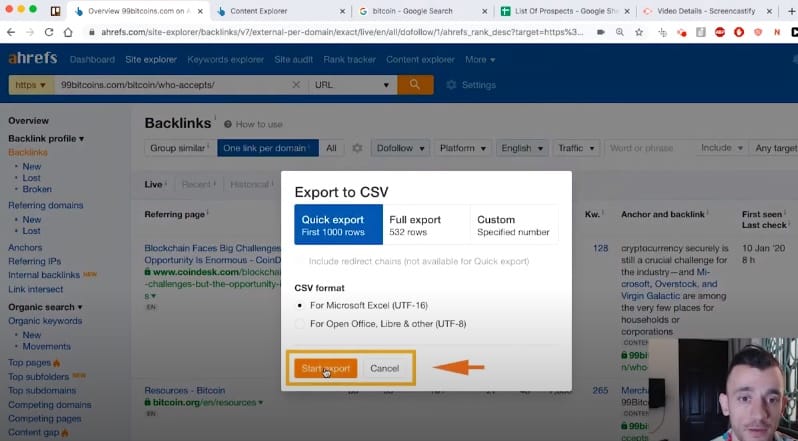 Now you have a list of prospects you can contact to ask for a link.
But what happens if you have a competitor with no links?
…Or you've scraped all of your competitors and run out of prospects that way?
That brings me to my next link building prospecting technique…
Useful Resource: 6 SEO Link Building Outreach Tips I Learned Sending 10,000 Cold Emails
---
Technique 2: Reverse Engineer Trending Content
Head back to Ahrefs, but this time to their Content Explorer.
Under "Enter Topic", you can type in whatever your niche is related to.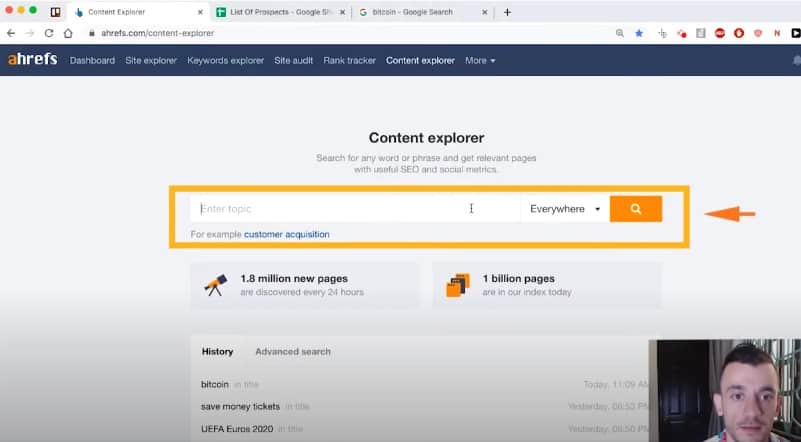 Maybe you're in health, meditation, cryptocurrency etc.
For this example, let's use Bitcoin.
Change the drop down to "In title".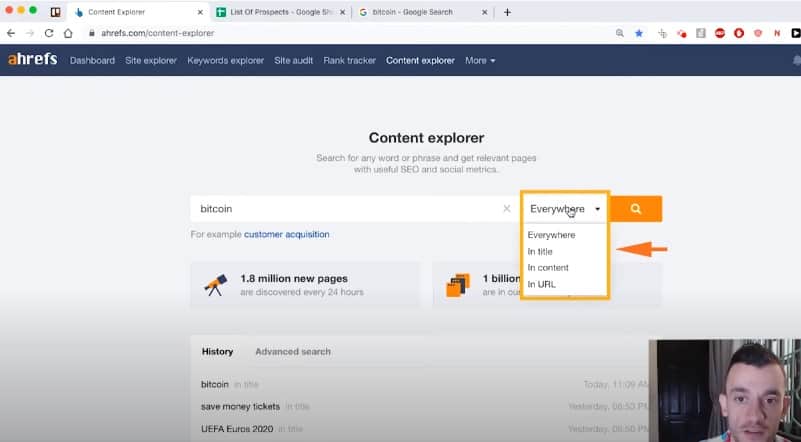 ---
Step 6: Start Finding Relevant Prospects
As you scroll down, you'll see a list of relevant content to your topic.
Next, sort by referring domains.
Why?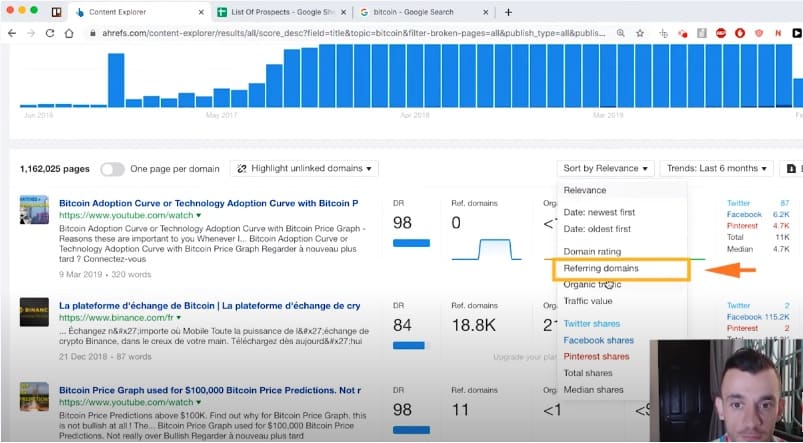 This sorts the results by the content with the most backlinks.
The more backlinks there are, the more prospects you'll have to contact.
So this technique is more time-efficient in terms of finding relevant prospects that you can scrape.
Then copy the link addresses and put them into a spreadsheet.
Then you'll have a list of prospects that you can quickly scrape.
---
Step Seven: Finalize Your Prospect List
Once you finish your prospect list, start copying and pasting each of these websites into Ahrefs.
Then to get a list of all the websites you can contact, go to backlinks.
From here, you'll get a long list of prospects that you can contact.
---
Technique 3: Using Ahrefs Toolbar
The final link building prospecting technique I recommend is Ahrefs toolbar.
You can download the toolbar here.
(It's free once you've signed up to Ahrefs.)
Just type your Keyword on Google e.g. cryptocurrency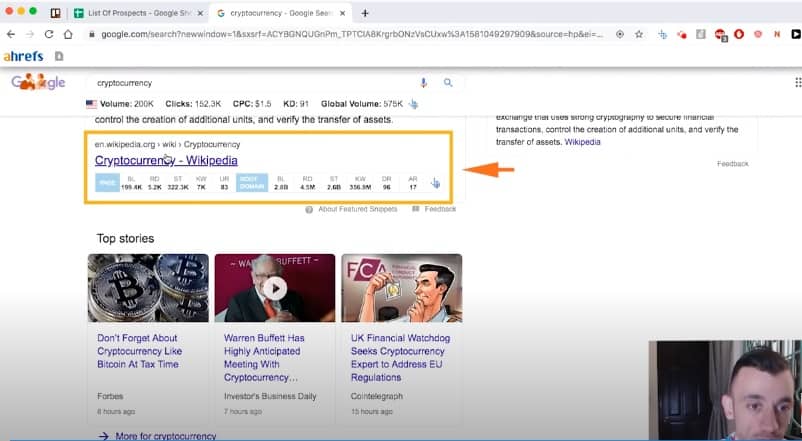 As you can see above, this search result has loads of prospects I can contact.
In fact, they have 5,200 referring domains for this page alone!
The higher the number of referring domains here, the more prospects you can scrape.
And therefore, the more opportunities you'll have for a link.
These are all relevant articles, related to cryptocurrency.
You can put them into your list of prospects (see spreadsheet I mentioned earlier):
And it's as easy as that!
With these 3 techniques, you'll find an unlimited number of link building prospects!
And as you can see, it doesn't take much time to generate a list of prospects.
This is a process you can rinse and repeat for almost any niche.
If there are links in your niche, this blueprint will work for you!